After viewing some of the shipments himself in Egypt close to Gaza, pallets of medical supplies, food, and water among them, UN Secretary-General António Guterres told reporters that right now, the trucks urgently need to move to the other side of the border, as a matter of "life and death".
The ongoing siege imposed shortly after the conflict began on 7 October has sent UN agencies and partners rushing to send tonnes of supplies.
Agencies in the enclave report dangerously low levels of basic supplies, like food and water amid continuing air strikes and bombardment. More than 3,000 tonnes of aid is waiting.
UN News took a look at what's inside trucks waiting at the border. Here's what we found:
Water
Trucks exclusively carrying bottled water make up part of the convoy. This includes multiple shipments, with each truck loaded with 5,544 bottles of water, from the UN Children's Fund (UNICEF).
Water continues to be among the most precious commodities, according to the UN relief agency for Palestine refugees, UNRWA, operating in Gaza and the West Bank.
UN agencies on the ground warn that daily rations there could drop to one litre per person, compared with the bare minimum of 15 litres per day. They also voiced grave concerns about looming outbreaks of waterborne diseases.
While shipments are poised for delivery, the UN humanitarian coordination agency, OCHA, has been working to review further logistics for water trucking operations.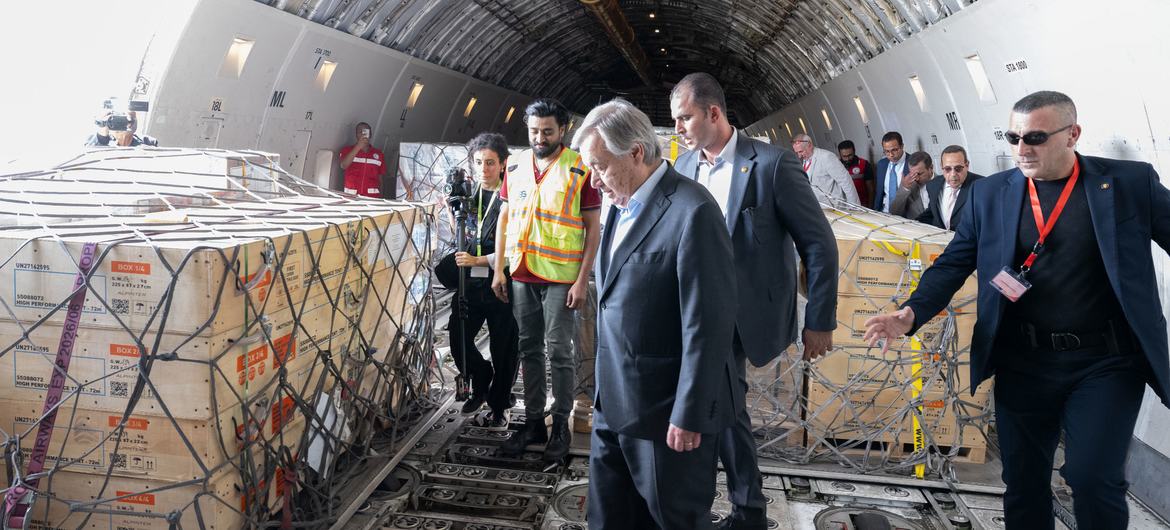 Food
Ready for delivery to Gaza are 951 metric tonnes of emergency food, according to the UN's World Food Programme (WFP).
To gauge the volume, a convoy of five trucks is carrying, among other things,100 tonnes of food parcels. That's about 20 tonnes of food per truck. Other vehicles contain additional donations of ready-to-eat food that continue to arrive.
The WFP shipments include a range of necessities, including 300 tonnes of food that could feed 250,000 people for one week, 22 tonnes of humanitarian relief, 15 tonnes of fortified biscuits, and two mobile storage units to address shortages in Gaza. The agency also arranged the delivery of 40 metric tonnes of food parcels donated by the United Arab Emirates.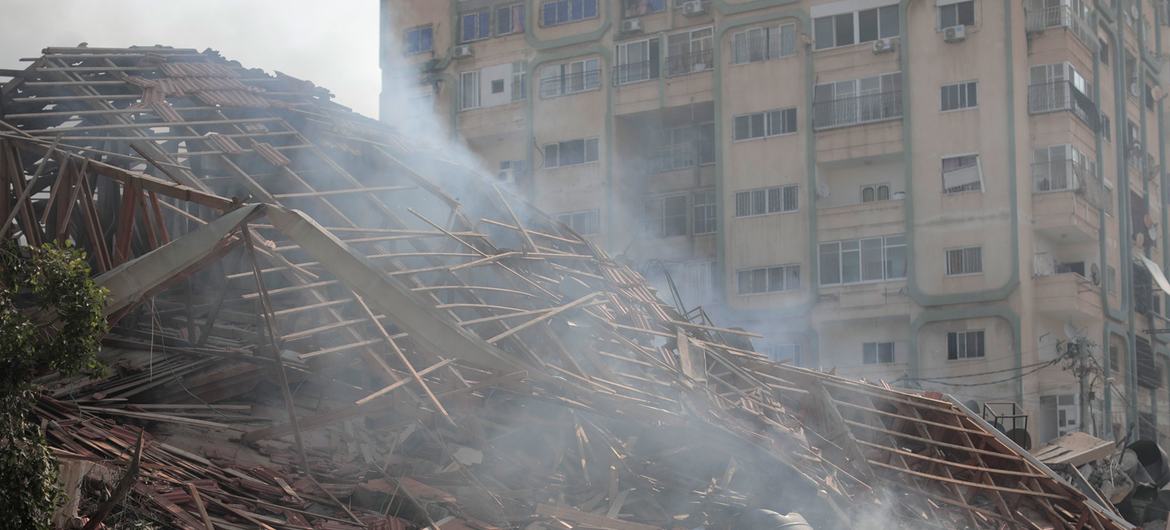 Shelter
The ongoing fighting has displaced one million Gazans, almost half the population. An Israeli evacuation order for Gazans to leave for southern areas resulted in many people now sleeping in streets amid continued bombardment.
With thousands of civilians waiting on the other side of the Rafah border opening and many more in need, humanitarians shipped a range of items to help to accommodate them and provide them with bare essentials.
That includes 15 metric tonnes of tarpaulins, sent by the UN International Organization for Migration (IOM) and 300,000 emergency kits containing essential items from OCHA.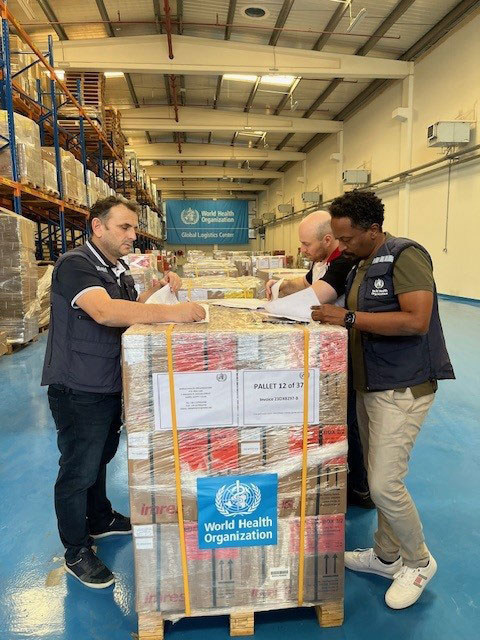 To serve girls and women's needs, the UN sexual and reproductive health agency, UNFPA, sent 3,000 dignity kits containing, among other things, menstrual pads, bath soap, multiple pairs of underwear, detergent powder, a flashlight, toothpaste, and a toothbrush.
Also at the ready are UNICEF shipments of mobile latrines, and dignity kits to address the immediate needs of 150,000 people.
Health
Some trucks at the border are carrying lifesaving medical supplies. Since 7 October, UN agencies are quoting the authorities in Gaza who have reported almost 4,000 deaths and many more thousands of injuries.
The evacuation order has exacerbated an already fragile, overwhelmed, and damaged health system, with supplies rapidly depleting across the enclave.
Among the first UN agencies leaders to reach out to the President of Egypt to facilitate aid deliveries, World Health Organization (WHO) Director-General Tedros Adhanom Ghebreyesus said an initial shipment of 78 cubic metres of emergency aid would help more than 300,000 Palestinians.
Shipments at the border contain trauma medicine, health supplies, and emergency medical goods to treat the wounded. In addition, WHO in Egypt just received an additional nine metric tonnes of trauma emergency kits.
Fuel
Some of the trucks awaiting clearance at Rafah are carrying containers of badly needed fuel.
For nearly two weeks, humanitarians on the ground have warned of fuel shortages. The ongoing siege had shut down water, electricity, and other essential services, so generators are now supplying power.
Fuel is urgently required to power them to serve hospitals, desalination plants, and water pumps, according to several UN agencies.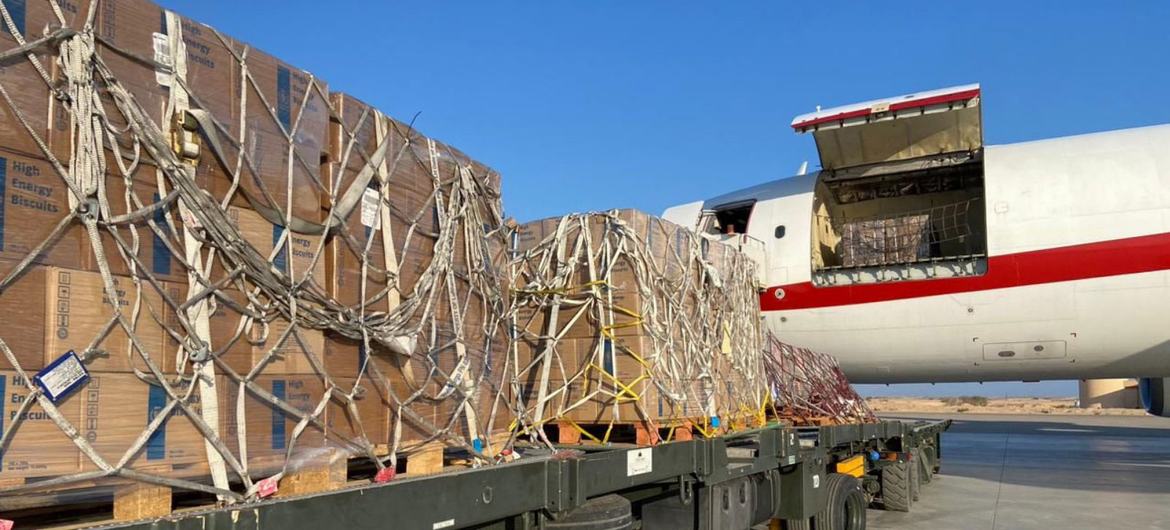 How does aid get to Gaza crossing?
Before the current crisis, 100 trucks would enter the enclave every day because more than 60 per cent of the population relied on UNRWA aid. No deliveries have arrived since 7 October, according to UNWRA.
With Israel's Erez and Kerem Shalom crossings into Gaza closed since the conflict began, the Rafah border is what the UN chief called a "lifeline" for the besieged population.
To facilitate with deliveries, the UN Humanitarian Air Service (UNHAS) has arranged flights carrying hundreds of tonnes of aid to El Arish Airport in Egypt, located 45 km (28 miles) from the Rafah crossing.
Over the last week, Egypt, Jordan, Türkiye, and the United Arab Emirates are among donors alongside growing numbers of humanitarian agencies.
On Friday, supplies continue to arrive. Pallets continue to be loaded into more waiting trucks. Drivers then would head towards the convoy waiting in Rafah, where they would stand ready until an agreement is reached to open the border.