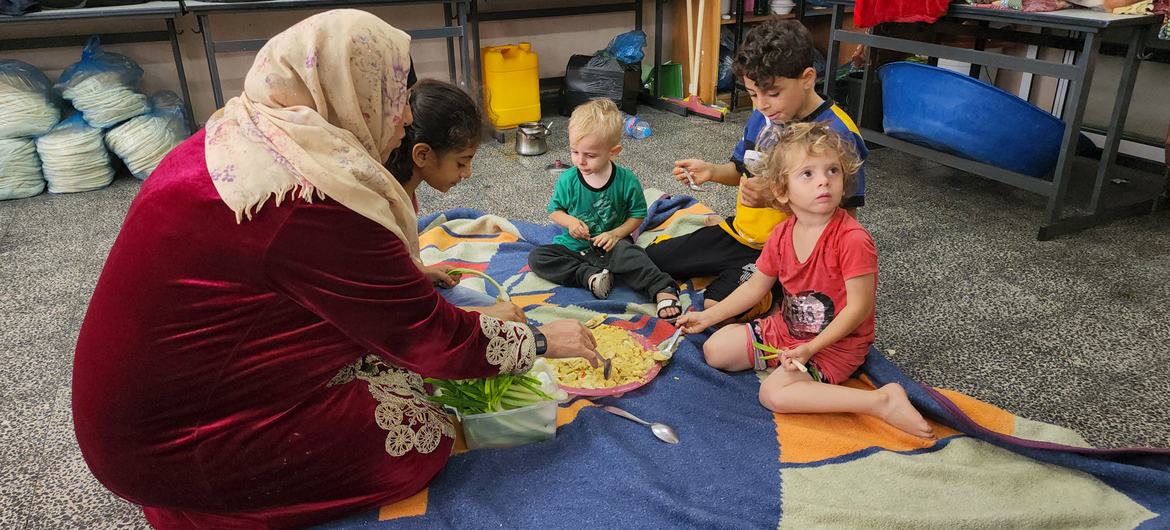 The past 10 days of conflict have claimed the lives of 4,200 people, forced more than one million individuals to flee their homes following an order from the Israeli authorities and left large areas in the Gaza Strip "reduced to rubble", according to the Office of the High Commissioner for Human Rights (OHCHR).
"We have grave fears about the toll on civilians in the coming days," said OHCHR spokesperson Ravina Shamdasani, "with military operations showing no signs of abating, a continued siege on Gaza affecting water supply, food, medicines and other basic needs and daily indications of violations of international humanitarian law and international human rights law."
Secure corridors
In southern Gaza where a humanitarian emergency is already playing out, UN relief agencies reiterated their call for a secure and reliable humanitarian corridor to deliver stockpiled aid into the Occupied Territory.
Both Egypt and Israel have faced multiple calls from the UN and international community to protect non-combatants impacted by the war.
"We call for unimpeded access, safe passage for desperately needed humanitarian supplies to Gaza," said Abeer Etefa, UN World Food Programme (WFP) Regional Communications Lead for the Middle East and North Africa. Some 300 tonnes of food "are either at or on the way to the Egyptian border in Rafah", said Ms. Etefa. "That's enough to feed around a quarter million people for one week."
According to the UN human rights office, "a large number" of women and children are among the dead in Gaza, as well as at least 11 Palestinian journalists, 28 medical staff and 14 UN colleagues.
Tombs of rubble
"It remains unclear how many more bodies may be buried in the rubble – with many families missing loved ones, terrified about their uncertain fate," Ms. Shamdasani said, speaking in Geneva.
Echoing urgent warnings from the UN agency for Palestinian refugees UNRWA about the desperate situation in Gaza amid heavy Israeli bombardments, from the air, sea and land, humanitarians echoed deep concern that healthcare facilities had been targeted – raising concerns about medical care for the injured, including pregnant women and those with chronic health issues.
Additionally, civilians attempting to relocate to southern Gaza have been struck and killed by explosive weapons, demanding urgent and independent investigation, OHCHR says.
The world body has called for an immediate humanitarian pause to facilitate aid delivery and prevent further suffering.
Strict compliance with the laws of war and the protection of civilians is essential to prevent further loss of life in this dire crisis, Ms Shamdasani said.
More to come on this developing story…