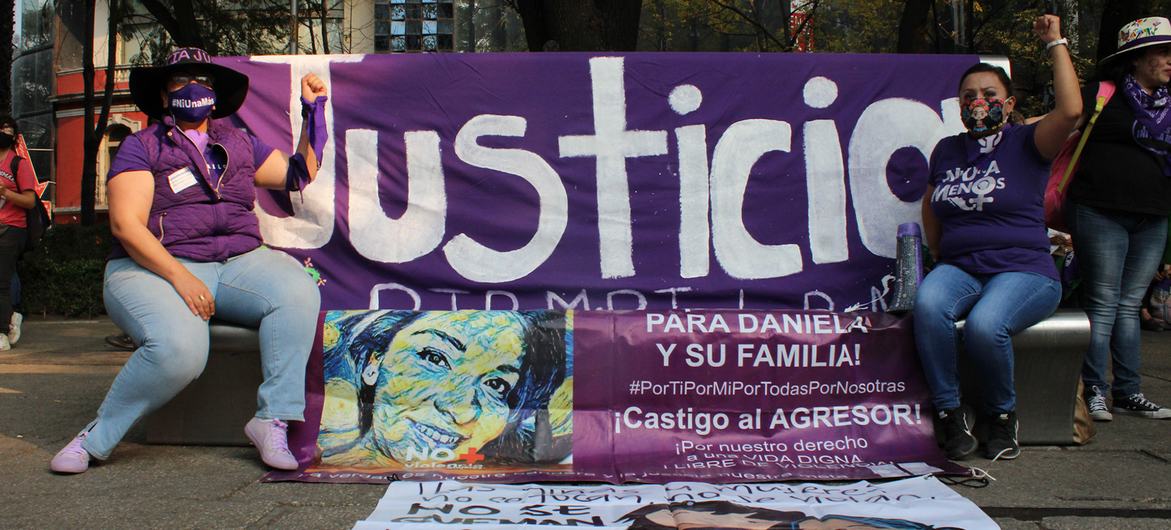 That's the message from the UN Special Rapporteur on extrajudicial, summary or arbitrary executions, Morris Tidball-Binz, who said on Monday that perpetrators are mostly, but not exclusively, partners or ex-partners, and often escape accountability "due to a lack of proper investigation".
A 2022 report from the UN Office on Drugs and Crime (UNODC) and UN Women showed more than five women or girls are killed every hour by an intimate partner or someone in their own family – that's some 45,000 per year – and the true scale of the problem is believed to be much higher.
The independent rights expert called on countries to "take every possible step" to investigate and prosecute femicides and provide effective support, remedies and reparations to victims and their families.
He also stressed that local beliefs, customs, traditions or religions "must not be invoked to limit the rights of women and girls or as a defence against a charge of femicide".
Rights experts call on Israeli lawyers to block potential war crimes
UN-appointed independent experts on Monday called on all lawyers advising the Israeli military to refuse legal authorisation for acts that could amount to war crimes in retaliation for the Hamas attacks on Israel.
"We unequivocally condemn the massacres of civilians and hostage-taking by Hamas and other Palestinian armed groups in Israel," the rights experts said. "Those acts, committed against civilians, were atrocities."
"Israel has launched a barrage of deadly airstrikes into densely populated civilian areas in the Gaza strip, destroying or damaging homes, hospitals, markets, and UN Reliefs and Works Agency (UNRWA) buildings," the experts said.
Among the over 5,000 dead – according to Gaza health authorities – and more than 12,000 children are reportedly among the injured.
The experts also noted the tightening of the years-long Israeli blockade on Gaza, cutting off food, water, electricity, and fuel supplies.
'Professional duty'
"As Israel responds to Hamas and conducts operations in Gaza, all lawyers advising the military must identify and seek to prevent actions that may amount to war crimes. They have a professional duty to deny legal authorisation for criminal acts," the experts said.
"Lawyers must refuse to give legal authorisation for actions that violate international law," they said.
Special Rapporteurs and other Human Rights Council-appointed independent experts are not UN staff, nor do they receive a salary. They are independent of any government or organisation.
Northeast Syria 'world's largest detention site for children'
"Egregious" child rights violations are taking place in camps and prisons across northeast Syria, where the "vast majority" of those detained are children, a UN-appointed independent expert said on Monday.
Fionnuala Ní Aoláin, the UN Special Rapporteur for the promotion and protection of human rights and fundamental freedoms while countering terrorism, said that in the infamous Al-Hol and Al-Roj camps as well as a number of other detention facilities, "no process of law exists to justify detention" and "torture, cruel, inhuman and degrading treatment is rife".
Displacement camps in northeast Syria hold tens of thousands of Syrians, Iraqis and nationals of other countries suspected of links to the terror group Islamic State in Iraq and the Levant (ISIL).
The expert's latest report documents enforced disappearances, torture, ill-treatment and incommunicado detention at the sites.
The findings include mass arbitrary separation of pre-pubescent and adolescent boys from their mothers in the camps, which the expert considered "particularly harmful", as well as "rampant starvation and tuberculosis" occurring in Panorama prison, which holds approximately 5,000 men and 700 boys.
Ms. Ní Aoláin said that the "scale, scope and extent of these practices may reach the threshold for crimes against humanity under international law" and warned that it was "morally and legally unacceptable to use 'terrorism' to justify egregious breaches of human rights".