Aamir Khan completes 35 years in cinema: His best films, his love for cinema
Love stories were the genre du jour when it came to launching new talent back in the day. If you are getting a launch, it will involve two innocent looking youngsters, apoplectic parents (led by red-in-the-face dads) and a family feud that will involve wads of cash and shooting guns. Aamir Khan's debut was faithful to the script, ironical for an actor whose entire career has been a sort of rebellion against what is considered hit formula. Qayamat Se Qayamat Tak was the love story that an entire generation fell in love with, because despite the cliched formula, it had a certain freshness that was hard to describe. Aamir became the chocolate boy but soon realised that's not the only adjective he wanted.
In the next 35 years, he earned a lot of monikers — Perfectionist Khan, socially-conscious star and the man with a Midas touch, but none of it stuck. Because that's who Khan is, a man who is constantly reinventing himself and his cinema, ready to walk on new paths and refusing to compromise with his dreams. As he completes 35 years in cinema, QSQT released 35 years ago on this day, we celebrate his long and fruitful innings with some of our favourite films of Khan.
Laal Singh Chaddha (2022)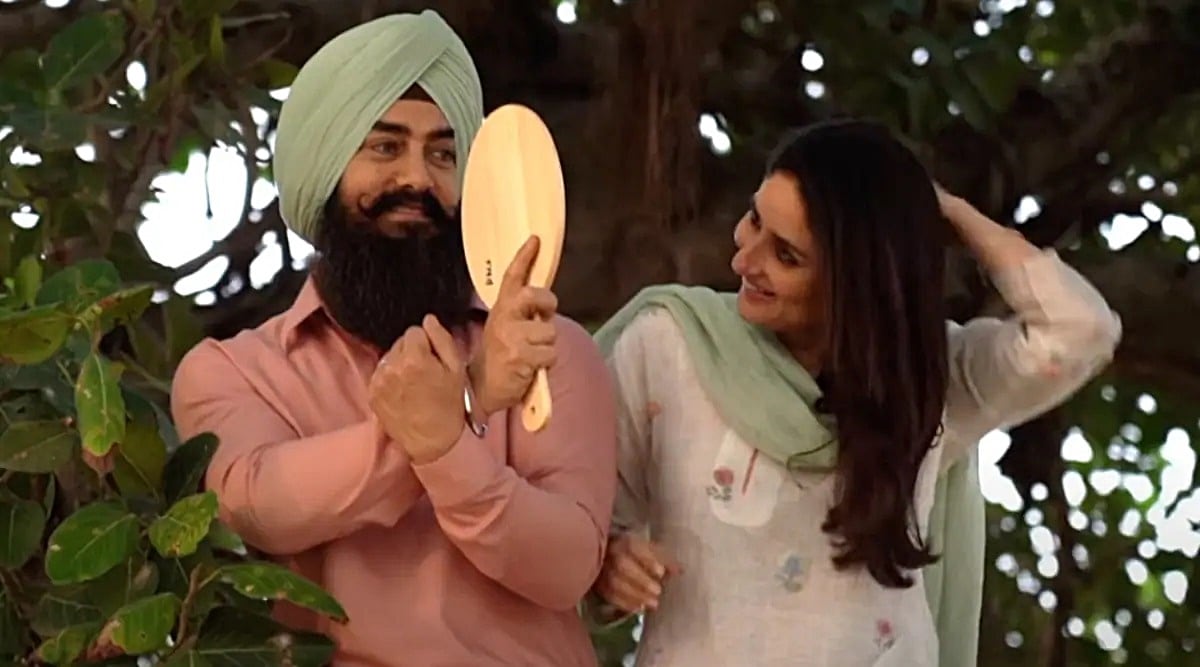 Aamir Khan and Kareena Kapoor Khan in Laal Singh Chaddha.
Even Aamir Khan's safest-seeming films — Laal Singh Chaddha is the remake of the globally renowned modern classic, Forrest Gump — have an ambitious streak. In LSC, we saw this not in the elaborate digital de-ageing that transformed Aamir from a 50-something to a strapping young man, but in the audacity of his performance.
It's a performance that didn't win him any fans, but in an industry where stars both big and small are terrified of straying too far from their on-screen personas, Aamir swung for the fences. It helps, of course, that he doesn't really have a screen image to live up to, but the affable Laal Singh Chaddha served as a particularly powerful symbol in these divided times, and a great counterpart to the character Aamir played in Rang De Basanti all those years ago. Smartly, Aamir altered the tone of his performance as the film progressed, bringing it home in an undeniably moving stretch towards the end. Laal Singh Chaddha remains one of his biggest bombs, but it's also one of the purest movies he's starred in, and a good reminder that in addition to being a superstar, he's endlessly fascinated by the actual craft of acting.
Thugs of Hindostan (2018)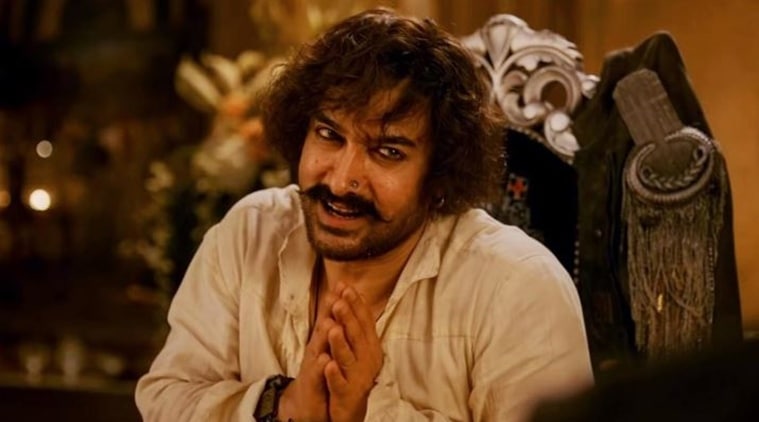 Aamir Khan in Thugs of Hindostan.
While we are used to Aamir Khan, the perfectionist superstar who brings the finest of stories to cinema, Thugs of Hindostan left him vulnerable to the point he had no control over it and had to push himself as an actor. Though not billed as a comedy, it is one of the funniest films with Aamir in the lead (most of it is unintentional). I wondered while watching the film why it wasn't made into a children's film instead of being billed as a 'period drama'. However, why I totally enjoyed watching this film — also starring Amitabh Bachchan, Katrina Kaif and Fatima Sana Sheikh — is that while the rest of the cast detached themselves from their roles eventually, Aamir doesn't give up, to an extent that even his character goofs up with utmost sincerity. All the while I was watching the film, my focus was Aamir's face where I could find the struggle of Bhuvan from Lagaan, wry wit of Rancho from 3 Idiots and the confusion of P.K, but even then failing to keep the film together. But kudos to Aamir for not giving up on the film, it is definitely worth a watch, you know the so bad its good category.
Rang De Basanti (2006)
Few films capture the zeitgeist as well as Rang De Basanti did — a country on the boil, looking inward for some answers and justice. The famously inconsiderate youth was coming together at India Gate and lighting up candles for the many (Jessica Lal, Priyadarshini Mattoo) who had been wronged, making the grand old men who control power and law to sit up in their white mansions. Rang De Basanti harnessed that anger, saw the parallels with the Bhagat Singh, Sukhdev and Rajguru and gave that generation its own version of angry young men. A film that seamlessly cuts between the past and present, underlining that when the young get angry, they lead to revolutions. The Rakeysh Omprakash Mehra remains a modern-day gem, a shining addition to Aamir's filmography.
3 Idiots (2009)
Aamir Khan in 3 Idiots.
'Success ke peeche mat bhaago, excellence ka peecha karo, success jhakk marke tumhare peeche aayega'.
Now, doesn't that famous Rancho dialogue sum up the career of the perfectionist Khan himself? 3 Idiots was full of such quotable quote moments along with laugh-out-loud comedy, memorable songs, excellent performances and a message neatly wrapped in the end. Aamir led from the front as Rancho/Phunsuk Wangdu and was not insecure about sharing screen space with the rest of the ensemble cast. The film is as much his as it belongs to R Madhavan, Sharman Joshi, Kareena Kapoor and Boman Irani. One of those offerings that have aged well and remains as relevant as ever.
Lagaan (2001)
Ashutosh Gowariker's 2001 film Lagaan was a turning point in Hindi cinema. Film pundits and trade gurus had no confidence in this nearly four-hour long film that centered on a cricket match between the Indian and English team but Aamir had so much faith in Ashutosh's vision that not only did he agree to star in the film, he produced it as well. Here, Aamir played Bhuvan, who is completely unaware of the game of cricket but brings his village together to fight the unfair tax rules that the British had imposed on them. The scene where he accepts the challenge thrown at them by Russell and proudly declares, "Shart manzoor hai (We accept your conditions)," is a crucial moment of the film, and from then on, you can't help but cheer for the underdogs. Another scene, where Bhuvan is talking to his mother, played by Suhasini Mulay, and explains why he wishes to fight for the rights of the villagers set the emotional tone of the film and from this point on, the audience wishes them to win not just because they are the underdogs but also because their rebellion becomes relatable. The film released alongside the biggest hit of the year, Gadar, but Lagaan was not ignored by the masses. Both films ran housefull for weeks with Lagaan getting a lot of critical applause. The film eventually received a nomination at the Oscars and while it did not win, it put Indian cinema on the global map.
Dil Chahta Hai (2001)

Indian cinema's superstar Aamir Khan has been working consistently for the past three decades in showbiz. Known as Mr Perfectionist, the actor has donned many roles over the years; some acclaimed, several hits and a few misses as well. But perhaps one of his most cherished roles, especially for the millenials, is the Farhan Akhtar directorial Dil Chahta Hai (2001). Although labelled often as a buddy movie, which it of course is among other things, Dil Chahta Hai is arguably an Aamir Khan feature. Yes, Saif Ali Khan and Akshaye Khanna were admirable in their parts, but the only person who had a definite hero's arc and who got a big dramatic scene with Preity Zinta in the film's climax was Khan. In fact, Farhan Akhtar had once revealed that he had conceived Dil Chahta Hai as largely a love story between Preity and Aamir's characters, but he made several changes later to make it more balanced and fresh.
As far as Aamir's Aakash Malhotra is concerned, you see Khan — who had proven his skills with more intense roles prior to this — completely get into the skin of the character whilst having loads of fun with it. Dil Chahta Hai is one of those rare movies in Aamir's filmography where he has gotten a chance to show off his fun side as much as his more serious, mature facet. A perfect Aamir Khan mainstream vehicle.