Abhilash Tomy completes the Golden Globe Race, finishing second; makes maritime adventure history
Tinker, sailor, soldier. Sprightly at 44. Battered, but never broken. With a titanium rod in his spine. Cdr Abhilash Tomy built himself a boat out of thermocol when he was 12. At 44, the veteran of the Indian military, sailing all three navigable oceans on a boat Bayanat with 1968 vintage technology, carried out countless tinkering repairs on his ride to complete a circumnavigation in a race like no other, the retro-themed Golden Globe Race.
Only three sailors were left from the 16 that started out on the home stretch with 26000 nautical miles done. Abhilash completed the GGR in 236 days, 14 hours, 46 minutes, 34 seconds on April 29.
For this last week, Abhilash had been engaged in a navigational duel with South African Kirsten Neuschafer to reach the finish line, the port of Les Sables d'Olonne. The only woman in the race, Neuschafer has made history, finishing first. Not only did she grab the lead, she was also rewarded a 23 hour differential advantage after she rescued fellow competitor, a sinking Tapio Lehtinen.
The Indian made his own history, first by returning to the race after a torrid accident in the 2018 edition when he was rescued after 70 hours, and then by staying afloat in the 2022 race despite needing a plethora of repairs to his boat.
A toilet door when you are sailing solo, might seem a tad superfluous. Especially when you come out of one storm and expect to run into another, without a self steering system, which can be sawed out of that very door for survival. And the intrepid Abhilash, would have seen this immediately.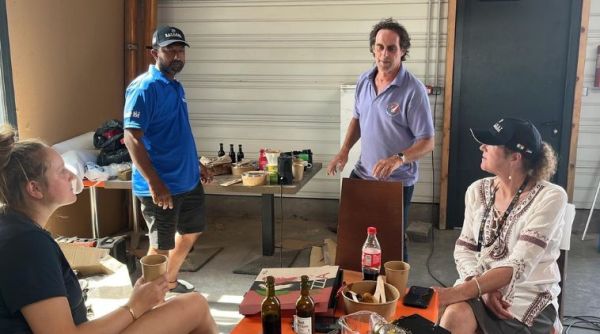 Team Repair: Abhilash Tomy, Dick Koopman and Ibe Steedman.
Three participants, including Simon Curwen who led the race 70 percent of the way, had to retire because of failure of their self steering mechanism, a purely mechanical and light weight object, prone to being bashed in a storm. "Curwen had to put into port in Chile and relegated himself to Chichester Class. The hydro vane has a small wooden pendulum rudder which failed but Abhilash managed to replace it twice with his own handiwork, first fashioned from the chart table and when that broke with wood from the toilet door," explained sailing expert, retd. Admiral IC Rao.
When he broke runners (chords on a foresail) or a storm tore a rip in the main sail this last week, Abhilash promptly repaired it with the same ingenuity as patching back the hydro vane. Finding innovative solutions to problems, he would display the attitude to stick it out through the most punishing of adversities.
As mental and psychological as the race was, it was also gruellingly physical, compounded by the fact that the 2018 accident had left him with certain movement restrictions, needing ergonomic tweaks in his boat. He was trapped and battered in an unruly storm, and needed rescuing which ended his race midway. Abhilash went through spine surgery in 2018 which involved fusing 5 vertebrae and inserting two titanium rods. Adm. Rao added, "Thereafter with expert help and his own will power he taught himself to walk first and then fly and then sail. He passed the mandatory fitness tests to qualify for the GGR. During GGR 2022, he had a fall inside the boat which hurt his ribs and then caused back pain." He got expert medical advice via organisers and was said to be comfortable thereafter.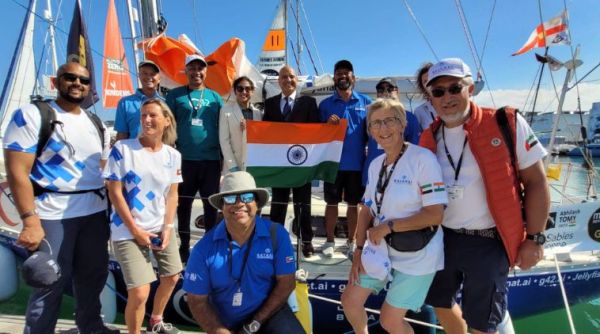 Abhilash Tomy with his support crew.
Perhaps the biggest challenge of the 'race' was not knowing where fellow competitors are, unless a ship passing by alerts you to relative positions. Strategising while blindsided by technology restricted to 1968 vintage as the race rules mandate, is both GGR's charm and curse. And when the race course is the entire planet over eight months and you are busy finding the fastest route sailable, it can get awfully lonely. Light wind patches (no wind which leaves you bobbing and drifting) would be as frustrating to mental health as heavy storms.
This was at its pronounced worst when rounding Cape Horn, the South American tip where there are strong winds, almost always rough seas, and it's considered the Mount Everest of sea-faring.
The 2022 race was delayed by two months from the 2018 start to ensure it's less stormy. Ironically, five had finished the race in 2018, as against the three in 2023.
Rules of the race mandate you can't receive any help or updates or upgrades and repairs to equipment from the shore for what is a solo, non-assisted circumnavigation. That means no internet. Only hf radio which is short range so you communicate with those on the sea. No contacting family.
The Bayanat gets ready to sail.
Abhilash is known to be one of the best celestial navigators, yet a day doing what he does involves refittings, adjusting navigation, cooking, cleaning and even sleeping during the day in fear of running into a big ship in the night darkness. With 1000 miles left to go, he rode into a storm with 5 metre high waves – that's like two building floors high.
A storm thrashing in the course of his odyssey, swept salt water into his electric system, ruining it a month ago. It left him relying on two solar panels to charge his devices.
Those who dropped out faced a multitude of challenges, all of which Abhilash conquered with his resilient get-go spirit. Some broke their bowspirit, others got webbed into barnacles or lost life rafts during a knock down.
Yet in a race that was man or woman vs nature, the heroic duo also managed to turn this into an edge-of-seat thriller. That the grandest ocean Odyssey of pushing own limits battling elements across the globe, could also turn into an exhilarating 1-2 race photo finish wasn't anticipated by many. Professional Sport does this routinely, but not after 230 days and 30,000 miles.
Isner-Mahut, England-New Zealand in 2019 ODI final, Schumacher-Barichello dead heat on the race track, extra time+shootout in any FIFA final, roll them all into one and multiply by a million times for the foreword to this oceanic thriller. That's been the nature of excitement for this finish for close to a week now, after almost eight months of racing.
Abhilash's opponent: the incredible Kirsten, only woman on starting line
At the heart of this contest are two incredible forces of nature. Kirsten Neuschafer, the South African 40 year old, and the only woman on the starting line. At 22, she cycled from Europe to South Africa solo, and sails film crews to the Antarctic for a profession. Abhilash Tomy, the Indian 44 year old, retired naval pilot, the only repeat entrant from 2018 when he suffered an accident and had to be rescued with immense trauma and a back that needed patching back with titanium and fused vertebrae.
Both sea-farers, adventure and solitude lovers in a spool race that deliberately shuns technology, to recreate an 1968 ouvre. She is on the Minehaha, a boat name that means laughing waters. Him on the Bayanat, the name means brooding in solitude, the most repaired boat in the fleet. Skirting around high wind systems, taking measured risks.
He went in armed with books – One Hundred Years of Solitude and Count of Monte Cristo, 3-4 sets of daily clothes, extreme weather gear, easy to mix packets, canned dried meat and rice, and drank rain water collected off sails. It's also been 8 months of unsteady sleeping patterns. "He's not a land person, and there is no adrenaline activity he likes on land. But he's mad on the seas, a different person," described his wife and mother of two, Urmimala.
In the waters, it was unlikely that either competitors knew the other's relative positions in the race, or for that matter their own standing either, as they approached the Bay of Biscay. Resilience on its own to complete the race and then some more to wrap up an exciting endgame duel as the lead changed twice in the last fortnight. The GGR had never had a neck to neck finish.
Both also collected merit points for rescuing fellow sailor Tapio Lehtinen who had to abandon his boat. Kirsten gained 35 hours and Abhilash 12 hours, thus giving the former a 23 hour differential. Their last forward march in the seas was against the 'wall of steel', large container trade ships in and out of Bay of Biscay.
Two humans wading through storms, all alone for nearly a year out there in the sea, pushing themselves to the beyond was simultaneously a battle and an act of love with nature.