Aman Sehrawat vs Ravi Dahiya: At Chhatrasal, a new rivalry is set to blossom
Coaches at the Chhatrasal akhara are an excited lot. The famed wrestling hotbed, which earned a bad name after its most famous pehlwan, the double Olympic medalist Sushil Kumar, was charged with murder, is in the news for the right reasons. Just 19, Aman Sehrawat is making a name for himself and there is talk of him filling the big shoes of the Chhatrasal greats.
This centre in Model Town has produced five Olympic medals. Sehrawat, fresh from winning his first senior gold (57 kg) at the Asian Championships, is the man of the moment. The Under-23 Junior World Champion is the one coaches have pinned their hopes on to carry forward the legacy of the akhara.
But Sehrawat is not a favourite but a challenger, even within the walls of Chhatrasal.
An intriguing battleline looms and the coaches are looking forward to the fight for supremacy between young upstart Sehrawat and the proven medal winner Ravi Dahiya, the Tokyo Olympics silver medallist.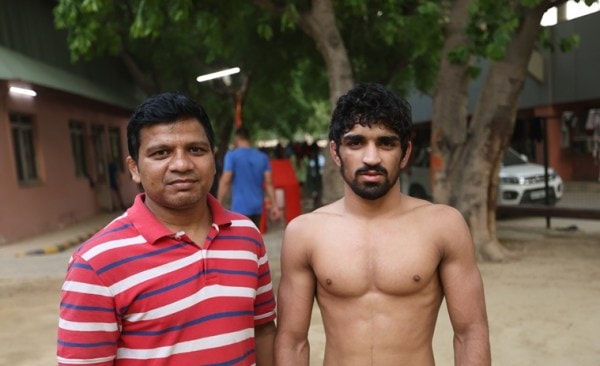 Aman Sehrawat with his coach Lalit Kumar. (Express Photo by Gajendra Yadav)
Sehrawat is still a teenager, Dahiya is 25 and both are 57 kg grapplers. Dahiya is making a comeback after a knee injury ruled him out of the Asian Championships in Astana, Kyrgyzstan. Sehrawat took his place and, like Dahiya, returned as champion.
"I don't look at it as a challenge because an Olympic medalist is already there in my category. I have been training hard all these years. He is a senior wrestler and at the moment is a bigger name than me and I respect his achievements. You have to be really good to win an Olympic medal. My aim is also to win an Olympic medal. If you are from Chhatrasal then you learn from a young age that nothing less than an Olympic medal will do," Sehrawat said on Wednesday.
The two have rarely sparred with each other, says coach Lalit Kumar. "Aman is a junior, and Ravi is his senior. They do have common sparring partners but we keep the both of them apart during training. Ravi has started training again in the basement facility, Aman is training in the arena which was refurbished before the 2010 Commonwealth Games. Eventually, when the time comes they will have to go for trials and win," Kumar says.
Huge posters of Sushil, Yogeshwar Dutt, the other wrestling medallist from the London Olympics, and Dahiya are on the walls of the hall in which Sehrawat trains. Last year Dahiya got the better of Sehrawat in the Commonwealth Games trials in New Delhi.
Another old hand at Chhatrasal, Anil Mann, says coaches have a pleasant headache with two wrestlers at different stages of their careers vying to become the best.
"The past two years have not been the best for Chhatrasal. Undesirable people were moving in and out freely. Things were a little out of control. Then one of the established coaches also left and started his own akhara. About 50 wrestlers moved along with him. Ravi's medal restored the reputation of Chhatrasal and Aman's success shows those dark days are behind us for good," Mann said.
Sushil did influence a young Sehrawat.
Sehrawat started mud wrestling in Birohar, a village in Jhajjar. When Sushil won his second Olympic medal at the London Games, Sehrawat told his father he wanted to move out of the village and enroll where India's best wrestler trained.
"Sushil's medal had an influence on me. Till then I was wrestling in the village but had no ambitions of trying to make it big," Sehrawat said about his early years.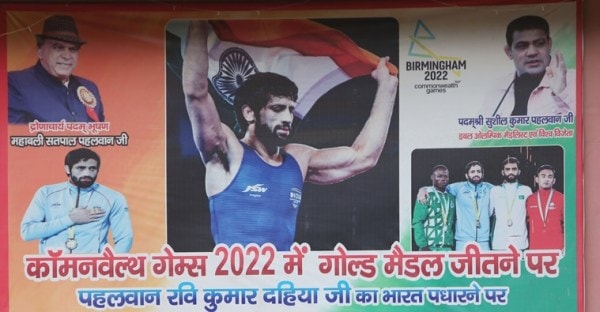 An intriguing battleline looms and the coaches are looking forward to the fight for supremacy between young upstart Sehrawat and the proven medal winner Ravi Dahiya, the Tokyo Olympics silver medallist at the Chhatrasal Stadium.
Sehrawat became an orphan after his parents died within a year of each other. His father's passing away was a shock. He had gone home after a year at Chhatrasal because he had a knee injury. It happened to be the day his father died.
"Nobody from home had told me he had passed away perhaps because they didn't want me to get upset and leave Chhatrasal. Those were my early days here and I would cry on most days because I found it difficult to adjust," Sehrawat said.
Now he is a seasoned pro.
In the final in Astana, Sehrawat beat Kyrgyzstan's Almaz Smanbekov 9-4 to become the best wrestler in his category in the continent.
"A big difference is that I have learnt to counterattack. Earlier, I would concede points when opponents attempted the fitley (leg lace). I have really cut down on the mistakes. Moving from juniors to seniors is a big step. Winning the Asian Championship gold has given me the belief that I am on the right track. I also learnt a lot by competing in the ranking tournament (Zagreb)," Sehrawat said.
What also makes Sehrawat a formidable opponent is his stamina. He narrates what happened during his bout against China Wanhao Zou in the semifinals of the Asian Wrestling Championships. "The China wrestler started very strongly. Initially, I had to defend because I was unsure of the stamina he had.
But soon he started to tire. I don't tire and that is a big plus for me."
Sehrawat beat Zou 7-4 to enter the final.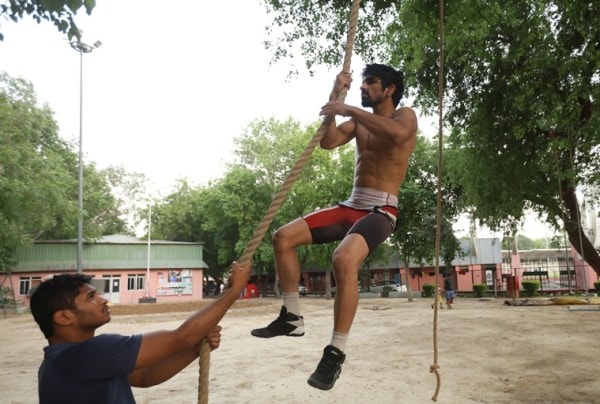 Wrestler Aman Sehrawat at Chhatrasal Akhada in Delhi on Wednesday, Express photo by Gajendra Yadav
Coach Kumar is keen to see how the Dahiya and Sehrawat potential rivalry plays out. "Aman is one of the most promising wrestlers I have seen at Chhatrasal. But let us not forget that Ravi is only injured. Ravi will be back to his best soon."