Amritpal Singh arrest: Peaceful, no use of force, say villagers
IN THE hours before, and after, Waris Punjab De leader Amritpal Singh was picked up, the village of Rode, including the gurdwara, was quiet, with no visible police presence, said residents. Villagers said that barring "five or six vehicles" outside the gurdwara, there was no other significant movement.
While announcing Amritpal's arrest, Punjab Inspector General of Police (Headquarters) Sukhchain Singh Gill had said that police personnel had surrounded the village following intelligence inputs that Amritpal was there, leaving him "no way to escape".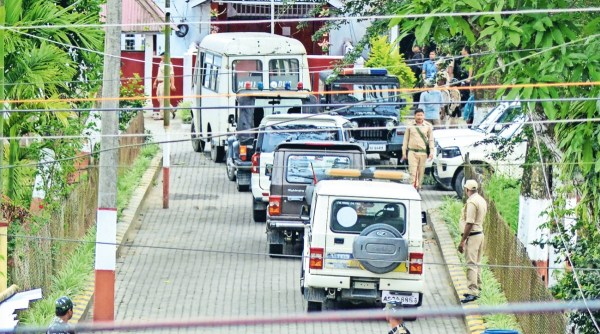 Dibrugarh: 'Waris Punjab De' chief Amritpal Singh being brought to Dibrugarh Central Jail following his arrest from Punjab's Moga, in Dibrugarh, Sunday, April 23, 2023. (PTI/ Photo)
Jasvir Singh Rode, former Akal Takht jathedar and nephew of slain Sikh militant leader Jarnail Singh Bhindranwale, claimed that the radical preacher had "chosen to surrender".
Speaking to The Indian Express, Rode said Amritpal had "surrendered" in his presence. Balwinder Singh, head granthi of the Gurdwara Janam Asthan Sant Khalsa in Rode outside which Amritpal was picked up, was also reportedly present. Balwinder was among those detained by police during the crackdown against Waris Punjab De earlier, but was later released.
"Amritpal reached Rode late on Saturday night. I was informed by the police that he would surrender at our village. I got to know around midnight and I left for Rode soon after. I reached Rode around 4 am and he was already here. When I met him, he said that he was going to surrender," said Jasvir Rode.
"Amritpal had probably informed the police last night itself that he would surrender this morning after paying obeisance at the gurdwara. He also addressed the sangat (congregation) for a few minutes before his surrender. Had the police arrested him, would they have allowed him to address the sangat? He has surrendered. He was prepared for it, and kept his clothes, comb, etc. The police took him away around 7 am," he said.
While a purported video clip of Amritpal delivering an address inside the gurdwara was circulated on social media, the villagers said they did not hear his address. In the over three-minute-long video clip, except for a woman devotee who is seen for a few seconds, no other person is visible.
Gurdev Kaur, 75, who is a daily visitor to the gurdwara with her home just a few steps away, said that on Sunday morning, when she visited the gurdwara at about 6 am, she saw a few vehicles parked outside. "I, along with some other women, went to the gurdwara as usual. As soon as we stepped inside the main hall, we saw Amritpal was also there. One or two men were with him. He paid obeisance quickly, and left with them. I did not hear his address. He probably delivered the address before we went there. It was peaceful, there were no signs of a forcible arrest," she said.
Another woman, Paramjit Kaur, 40, who also lives near the gurdwara, said: "I visited the gurdwara at about 5.45 am, and there was no police force deployed. However, I later saw five or six vehicles which quickly moved in. Amritpal was then taken away in one of the vehicles. We live very close to the gurdwara, but we did not hear any commotion or police announcements… Had Amritpal been here since last night, there would have been some commotion," she said.
Surjit Singh, another villager, said when he visited the gurdwara in the morning, some vehicles were parked outside. "When we went inside, Amritpal was paying obeisance. Then he went to the basement where Bhindranwale's portrait is kept. We later got to know that the men in civvies who took him away were police personnel. He went out of the gurdwara on his own and sat in one of the vehicles; there was no use of force. This happened between 6.15 am and 6.50 am," he said.
Mahinder Singh, another villager, said they were surprised when they got calls from other villages. "No one knows what exactly happened. Even those living near the gurdwara did not see any police deployment. My home is also near the gurdwara but nobody saw any policemen, either last night or this morning," he said.
Harmandeep Singh, husband of Rode's sarpanch Amarjeet Kaur, said the village panchayat was not in the loop. "No police personnel were deployed in our village last night… Suddenly, some vehicles came at about 6 am, and it was then that we got to know Amritpal was here. We don't know how Amritpal came, who brought him here. Within minutes they took him away. The administration disabled the loudspeakers outside the gurdwara so that villagers could not hear his address," he claimed.
"We got to know about his arrest only after he was taken away, when we were told to send forces to the village as a precautionary measure," said a police officer from Moga. He said at least 15 police vehicles had come to take Amritpal.
While senior police officers declined to comment on the operation, a police source said: "We had inputs about his movements. We worked on several permutations and combinations after getting the leads and the CM was monitoring the entire operation."
"In such a scenario, when a fugitive continues to be on the run, backdoor channels play a very significant role," said another officer.
Police sources said there was pressure on Amritpal after his wife, Kirandeep Kaur, a British citizen, was stopped from boarding a flight to Birmingham and questioned about his whereabouts on April 20. Kirandeep and Amritpal's mother were earlier questioned by police at their family home. Kirandeep, whose visa was due to expire in July, had advanced her travel plans due to her mother's illness.