Crackdown on Amritpal Singh: A month of hyperbole, CCTV grabs, meme fests & an elusive fugitive
Dekhiye aisa hai ham parinde ko bhi par nahi maarne denge (Look, we have made such foolproof arrangements that not even a bird can fly here)". When Punjab Director General of Police Gaurav Yadav said this on April 13 while responding to a question about any likelihood of fugitive Waris Punjab De chief Amritpal Singh making his way to Takht Damdama Sahib on Baisakhi (April 14), he was merely adding to the hyperbole and drama that has surrounded the month-long chase of the Khalistan sympathiser that began on March 18.
The fateful Saturday saw a hot chase captured on camera. Police vehicles sped around, raising much dust and speculation amidst an internet shutdown. Even as everyone waited with bated breath for the announcement of Amritpal's arrest—it seemed inevitable after his supporter Bhagwant Singh alias Pradhanmantri Bajeke went on Facebook while shouting 'Pols aa gayi pols' (The police are here) before being nabbed form fields near Moga. His words not only launched over a hundred memes but also inspired an ad of a food delivery giant.
But right from the beginning, it was the Punjab Police officials who showed their wizardry with words. On Day 1, Jalandhar Police Commissioner Kuldeep Singh Chahal, when confronted by a posse of media persons, explained away the elusive Amritpal by likening the chase to a game of 'chor' (thief) and 'sipahi' (police). "It is a game of 'chor' and 'sipahi'. Sometimes, they (culprits) manage to escape. But we will arrest him (Amritpal) soon."
It's been a month now and the police has had several sightings of Amritpal. The initial few days were filled with CCTV grabs that left many wondering about the penetration of cameras in the state. From a car and a mobike to a motorised cart and bus, he appeared to be changing places and guises with police missing him by a whisker. In between, he popped up with two video messages, and the consensus was that now the sipahi will get the better of him.
It also gave rise to some speculation about his location with national television channel, clearly out of touch with Punjabi language, flashing that Amritpal was not in Nepal but in Chardikalan (in Punjabi, it's a happy state of mind, not place).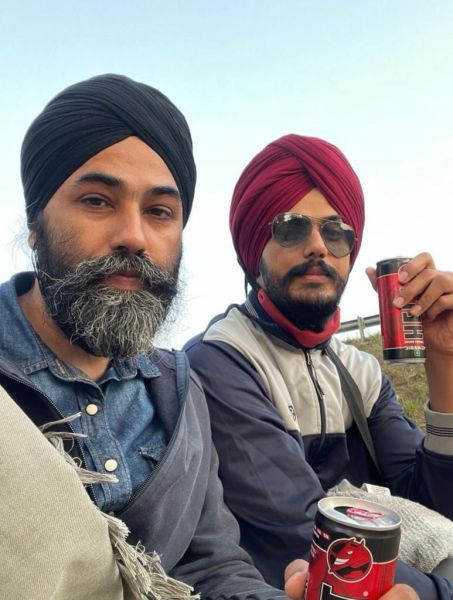 One of the many appearances changes that Amritpal Singh (right) adopted while being on the run.
Eager to see the end of this chase, people and police alike pinned their hopes on Baisakhi, a day on which Amritpal had urged devout Sikhs to assemble at Takht Damdama Sahib in Talwandi Sabo near Bathinda in large numbers.
But the police were clearly not betting on this outcome. When asked whether Amritpal might surrender at Takht Damdama Sahib, Bathinda Zone Inspector General of Police (IGP) Surinder Pal Singh Parmar snapped, "The police are not 'antaryaami' (omniscient)". Parmar added, "Amritpal ne kithe jaana kithe nahi jaana, asin koyee antaryaami nahi. Saanu koyee knowledge nahi. Ki pata ohne kithe jaana. je aana hunda taan hun tak a chukka hunda. Ohdi option aa na (We are not omniscient that we will know where Amritpal will go and where not. We have no knowledge [about Amritpal's movement] Who knows where he will go. If he was to come [to Talwandi Sabo], he would have come by now. It is his option). I cannot predict it and nobody can predict it."
Parmar also said, "If he has to surrender, why does he need to wait for Baisakhi. He should come tomorrow itself. We are prepared 24/7 ". We are a force which is on the job 24/7."
While Amritpal remained absent on Baisakhi, opposition leaders like Prem Singh Chandumajra, former Akali Dal MP, couldn't help but take potshots at the police. Taking a jibe at DGP Yadav's visits to gurdwaras in Talwandi Sabo, Amritsar and Anandpur Sahib—the DGP visited Talwandi Sahib twice in four days—the senior Akali Dal leader told the gathering at Anandpur Sahib that the DGP had perhaps left no gurdwara unvisited.
"Bathinde army de chaar (jawan) maarte, othe taan DGP Punjab da gaya nahi. Ethe l gurdwareyan te aayi jaanda.Mera khyaal zindagi ch kade matha nahi tekya hona DGP sahib ne, .Aah hun visakhi ton pehlan koyee gurdwara sahib chhadya nahi (The Punjab DGP did not visit Bathinda military station where four army men were killed. With Baisakhi approaching, he went on a spree to visit gurdwaras.,, there is hardly any gurdwara where he hasn't paid obeisance," fumed Chandumajra, blaming the police bandobast for the thin turnout of devotees on Baisakhi.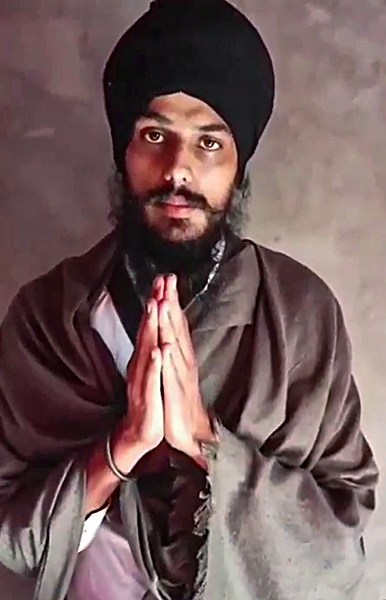 Chandigarh: In this grab from a recently surfaced video, Waris Punjab De chief Amritpal Singh. Singh in his video message slammed the Punjab Police for arresting Sikh youths during a crackdown against him. (PTI Photo)
It's not as if the Punjabi police was always at the receiving end. Clearly gleeful after the arrest of Papalpreet Singh, who had fled with Amritpal, they posted a reel on their official Twitter handle with the track 'Bones' by the rock band Las Vegas, playing in the background.
The post that said, "You can run, but you can't hide from the long arm of the law," sent netizens into a frenzy as they pointed to Goldy Brar and Amritpal.
Last week, the police arrested five men, including an advocate, for abetting Amritpal after his return to Hoshiarpur in Punjab on March 29. Sources say the cops are narrowing in on the fugitive.
The hunt is on.
🔴 The cases against Amritpal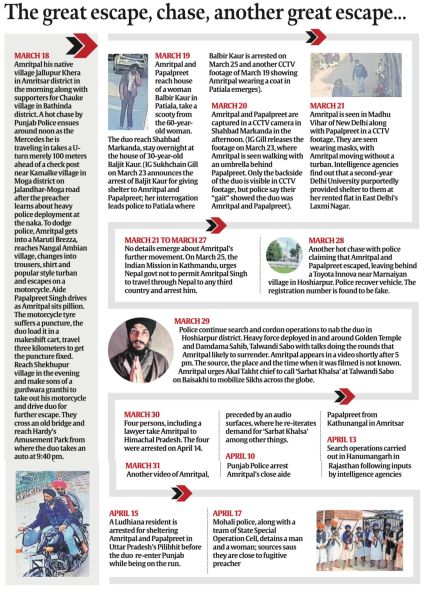 The fugitive pro-Khalistan preacher is facing at least six cases now even as Punjab Police have invoked the stringent National Security Act (NSA) against him. The cases have been registered in Amritsar Rural and Jalandhar Rural police districts. His aides and supporters also face multiple cases.
February 16: Amritpal and others booked in a kidnapping, assault and criminal intimidation, apart from other offences under the Indian Penal Code at Ajnala police station.
February 24: Amritpal and others booked in a case of attempt to murder and assault on police at Ajnala police station after they stormed Ajnala police station complex to free Lovepreet Singh Toofan, who was arrested on February 17 in connection with a February 16 FIR. Amritpal said Toofan was falsely arrested and implicated in the case. Toofan is subsequently released. After keeping it under wraps, the police discloses about the February 24 FIR only on March 18, when it begins the crackdown against Amritpal and his aides.
March 18: Amritpal is booked in a case of rash or negligent driving and disobedience to the order of public servant at Mehatpur police station as his vehicle allegedly hit several vehicles, including a police vehicle, when he escaped from the police and was on the run.
March 19: Amritpal and others booked in two cases. A case is registered against the preacher and others by the Amritsar rural police under Arms Act after the recovery of arms from the persons, associated with Waris Punjab De, arrested during the crackdown. He is booked in another case same day at Khilchian police station for offences of rash driving, criminal intimidation, and obstructing public servant in discharging their duty.
March 21: Amritpal is booked in another case at Shahkot police station. In this case, he, along with others, is alleged to have committed the offences of "extortion by putting a person in a fear of death, criminal intimidation, rioting, unlawful assembly and under sections of the Arms Act. The case is registered on the statement of the priest of a gurdwara at village Nangal Ambia Khurd where Amritpal, while being on the run, changed his attire from traditional Nihang Singh Bana (long shirt) by taking clothes of the priest's son at gunpoint. He also changed his traditional headgear and wore a normal turban.