Day and night bout at Jantar Mantar
Morning: Sparring on the asphalt road
Bleary-eyed wrestlers, Olympic and World Championship medallists, wake up early in the morning on a wide footpath at Jantar Mantar, their second home for nearly a week now.
They peer out of their zipped-up mosquito nets in these few precious minutes of me-time.
Before the capital city starts bustling, the women wrestlers freshen up at a hotel room nearby, get out of their nightwear and into track pants and t-shirts. Within minutes they are back at the 100-metre barricaded road synonymous with protests of all kinds.
Bajrang Punia with his wife Sangeeta Phogat (left) at Jantar Mantar. (Express Photo by Premnath Pandey)
The portable loos arranged by the Delhi government on Thursday have come as a relief for the male wrestlers using the smelly public facilities across the road.
Since Sunday, wrestling stars, Bajrang Punia, Vinesh Phogat and Sakshi Malik and fellow pehelwans have stayed put at Jantar Mantar, while demanding the arrest of Wrestling Federation of India president Brij Bhushan Sharan Singh. Seven women grapplers, including a minor, filed complaints on Sunday of sexual harassment against Singh at the Connaught Place police station.
The cream of the crop of Indian wrestling are eating, sleeping and training on the road.
Wednesday morning, the fourth day of the protest, began with wrestlers running and sparring on the asphalt road in the centre of Delhi. They had arranged for wrestling mats. Bajrang claimed the cops manning the entry and exit didn't allow the mats to pass through.
Undeterred, the wrestlers stick to their morning drills for the next few days. The first warm-ups attracted a steady stream of bystanders and turned into a photo opportunity for the early birds with smartphones. The training footage on TV cameras would become viral clips on social media.
The wrestlers would squeeze in sound bytes to the waiting camera crew during their break. One moment, Bajrang would lambast the Delhi Police for failing to file an FIR and in the next, he would cordially talk to a cop on duty at the protest site. Most of those in khaki admit they are fans too. Vinesh sipped a glass of milk after training. The on-duty CRPF personnel requested Sakshi for multiple selfies.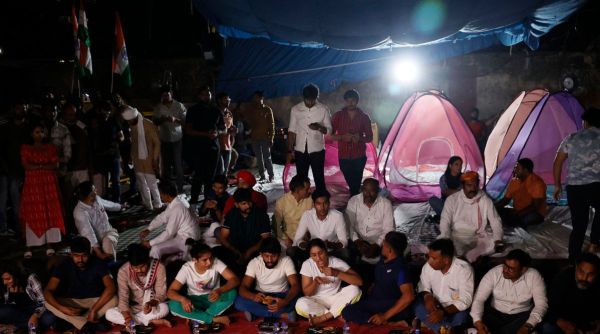 Wrestlers having dinner at Jantar Mantar. (Express Photo by Premnath Pandey)
"This is not even 10 percent of the workout but at least they are doing the minimum for basic fitness," said a coach.
The daily exercise routine is also a message to those (read IOA president) like PT Usha asking wrestlers to leave the protest site because it is 'tarnishing the image of India'.
"We are ready for the long haul this time at Jantar Mantar," Bajrang said. When they came to Jantar Mantar last Sunday, Bajrang didn't carry a change of clothes because there was no time to pack even a duffle bag.
By breakfast everyday, they work up an appetite.
A halwai from Sonepat, known to the wrestlers, was denied permission to cook at the protest site. He stayed back, found a small kitchen to cook in Delhi and in an autorickshaw ferries 'ghar jaisa khana' three times a day to Jantar Mantar. Their favorite thirst-quencher, chhaas (buttermilk), is delivered from across the Haryana border.
But the wrestlers have no time to relish their food. Waiting to meet them are well-wishers in a seemingly never-ending queue, from near and far. The shadow on the branches of a giant tree provides shade at the site. There is bottled water for everyone— cooled in large ice-filled plastic buckets. A set of dumbbells are in one corner, hundreds of pairs of footwear are strewn around. Whirling blades of noisy pedestal fans add to the cacophony.
Away from their training centres, the protesting wrestlers have a lot on their plate. They get into short huddles before coming to a consensus; be it major decisions like the calls they need to screen, when to speak to their legal team and the broad topic for media briefings. Or the everyday problems at the protest site — to buy the mattresses they sleep on from the tent house. Renting it out daily with no end date in sight for the protest to be called off would have burnt a hole in their pockets. They have also invested in a new sound system, a relief to the eardrums because it does not distort audio.
Afternoon: Mass leaders drop in to show solidarity
The informal master of ceremonies of sorts is Mandeep, stout but muscular and one who speaks with a thick Haryanvi accent. He is a busybody and he rarely puts the microphone down. The number of dignitaries – from bloc level leaders to khap leaders – swell by afternoon every day and so does the list of speakers. Mandeep adds the names in the notebook he carries.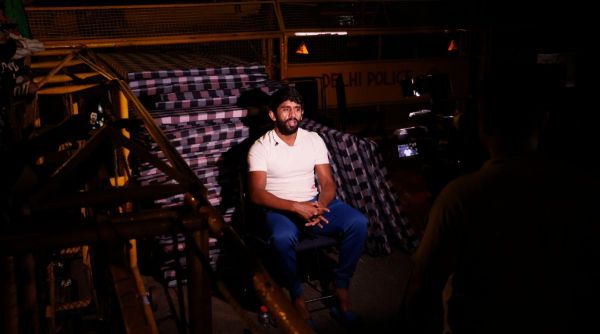 Bajrang Punia giving an interview. (Express Photo by Premnath Pandey)
Once the Hoodas, Karats and Maliks leave, the lesser-known netas wait for their turn to speak in support of their betis.
The 'dias' is nothing more than a mattress placed near the edge of the pavement. There are not enough chairs for the older folk. Those who want to speak first put in a word to Mandeep. He nods, makes a quick introduction and requests some of them to keep it short.
Mandeep is a good friend of Somvir, wrestler Vinesh's husband. Mandeep ensures nobody loses track of time.
'Bajrang bhai Aa jao', Mandeep's voice booms over the sound system at 3 pm.
Wednesday afternoon's press conference is the fifth in four days. Vinesh, Sakshi and Bajrang cover the microphone with the palms of their hands as they discuss who goes first. There's no moderator but over the course of three months – between their first protest in January and now – and after giving countless interviews even questions that sound like they are being asked to undermine the protest, don't faze them.
The wrestlers don't have a moment to themselves. Sakshi longs for privacy as she starts sobbing in a corner on Thursday. An alert photographer is quick to notice.
The previous afternoon, Sakshi, tired after a series of long chats, laid her head down on her mother's lap. Sudesh pats her daughter as she futilely tries to catch forty winks amidst the loud chatter. The other women wrestlers gather around. Most of them haven't had lunch yet but the comfort of sitting around a mother after a hectic morning is comforting.
Like a concerned husband Satyawart Kadian, Sakshi's wrestler-husband chaperones her wherever she goes and is mindful of whom she meets.
An unexpected veiled threat to call off the protest has made the wrestlers wary of unknown faces who try to get too close.
Bajrang reiterates that the safety of the women complainants has been compromised. Their families have received threats and inducement of money. He and the other wrestlers move from one interview to the next. They have to oblige not only to make their voice heard but also because there are television channels based in hinterland districts where every second house has a wrestler.
The narrative of Haryana (wrestlers from the state) versus Uttar Pradesh (WFI president Brij Bhushan Sharan Singh) has been gaining ground since the wrestlers first protested in January. A mass leader and a sitting MP from Rajasthan dropping in is seen as significant.
Hanuman Beniwal from Nagaur makes a rousing speech peppered with metaphors of how all strongmen ultimately meet their match. He promises to bring a 'toofan' (storm) from Rajasthan the next time he comes to meet the wrestlers. Beniwal poses for photos before it gets too dark. His supporters raise slogans in support of the protesting wrestlers as the day winds down.
Night: Braving mosquito bites, sleeping on trampled sheets
Post 9 pm, only the wrestlers and their close associates stay put at Jantar Mantar.
There are a dozen foldable mosquito nets put away behind the protest site which are brought out. The picture Vinesh tweeted with the wrestlers lying in a row with the caption 'podium se footpath tak' needs no further fact check after a visit to Jantar Mantar at night. Vinesh has a bad throat from drinking cold buttermilk during the day and wants warm water to sip. But the hole-in-the-wall joint next to the protest site has closed for the day. The gas stove is under lock and key.
Foldable mosquito nets at the Jantar Mantar. (Express Photo by Premnath Pandey)
Wrestlers point to mosquito bites from the previous night when asked about the quality of their sleep. The white sheets on which hundreds of people trampled over are not changed but only dusted and spread over the mattresses. Fresh sheets are the last thing on their mind. Laundry is expensive in central Delhi.
The other day, a load of soiled t-shirts, and track pants were washed at the house of one of Bajrang's non-wrestler friends, who also laid out a home-style meal.
Space is limited, so placing the mattresses for a maximum occupancy is like putting a jigsaw puzzle together. But everyone is accommodative in the cramped outdoor sleeping quarters.
The mosquito menace isn't the only sleep impediment.
The tall outdoor pedestal fans don't provide relief because the air can't be directed downwards. Sakshi tries a jugaad. She gets a thick rope, tilts a fan downward and uses a thick cloth to attach it to one of the police barricades. But the heavy fan is unsteady now and the plan is quickly aborted.
The only multiple plug point extension board is a lifeline for their phone batteries. Before turning in the wrestlers scroll through their phones. There are unread messages and some calls need to be returned before putting phones on silent mode. Details of Tuesday night's darshan at the Hanuman Mandir in Chandni Chowk calm anxious family members at the other end of the phone line keen to know how their day went.
There is banter too once wrestlers get off the phone. One of them is wearing a matching pyjama and has her leg pulled. The wrestlers sit across in mosquito nets and chat about what possibly lies in store for the next day. A group of CRPF and police in khaki change shifts and begin their night duty. Soon, only the whirling of fans can be heard at Jantar Mantar as the sleep-deprived wrestlers doze off on the footpath.