Guddu Muslim: Atiq aide with many names, many dangerous skills
He goes by many names: Guddu Muslim, Guddu Shooter, Guddu Bambaaz, Mohammad Muslim. Over the past two months, the notorious 52-year-old, whose list of crimes outnumber his aliases, has shot to the top of Uttar Pradesh police's most-wanted list.
A close associate of gangster-turned-politician Atiq Ahmed, who was shot dead earlier this month, Guddu came back on police radar following the murder of advocate Umesh Pal and his two police gunners in Prayagraj on February 24.
What followed was a police crackdown on those accused in Pal's daylight killing – earlier this month Atiq's son Asad and an aide were killed in an encounter. And on April 15, Atiq and his younger brother Ashraf were gunned down by three men while they were being escorted by police for a medical check-up. Just before he was shot, Ashraf was mid-sentence. His last words: "Main baat ye hai ki Guddu Muslim…"
According to investigators who have tracked his spate of crimes, Guddu is a "contract killer" known to take on risky assignments. He has worked with several gang leaders from UP and Bihar, and was the go-to man for Atiq when he wanted something done.
His 'history sheet' contains nine cases, including murder and attempt to murder, said a police officer.
According to the UP police dossier against him, Guddu hails from Itkauli village in Sultanpur district. He was around six when his father died, and his mother moved to Prayagraj, where Guddu started staying at his maternal uncle's residence. According to police, Guddu was initially involved in petty crimes such as theft, which would often prompt visits from cops to his home. Irked over this, his mother and maternal uncle snapped all ties with him.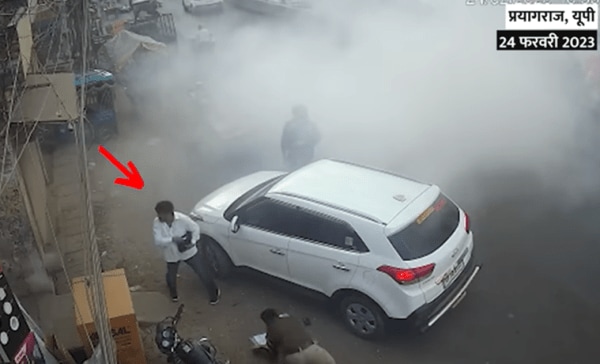 In a video of Pal's murder, Guddu can be seen casually flinging bombs as shooting takes place around him. Police believe he planned and orchestrated the daring attack. (Screengrab)
He was around 30 when his mother passed away, and soon after, he first made contact with Atiq. This was also the time he started living with a married woman in Chakia area, where Atiq's now-demolished house too was located.
According to police sources, Guddu caught Atiq's attention around 2000 when he arranged lawyers to ensure that the gangster is released from jail in a criminal case.
Soon after, he started working as a "shooter" for Atiq, and would frequently travel with him. After Atiq was jailed in 2017, Guddu started working with his two sons, primarily arranging illegal weapons for the gang, said police.
Around this time, while still staying in Chakia area, Guddu got into a relationship with another woman, police said.
Investigators say Guddu is known for his expertise in making crude bombs and can prepare one in just a few minutes if he has the raw materials, even if he is sitting at the back of a bike. It is said Guddu would carry raw materials in a packet with him and assemble bombs while on the move. In a video of Pal's murder, Guddu can be seen casually flinging bombs as shooting takes place around him. Police believe he planned and orchestrated the daring attack.
Additional Director General, Law and Order, Prashant Kumar said efforts are on to arrest him.
As per police records, he has contacts in Sultanpur, Varanasi, Muzaffarnagar, Haryana and Delhi, where he can potentially take shelter, and also stayed in Lucknow for a brief period while on the run. Police claim they have narrowly missed him on several occasions, including when he visited Atiq's brother-in-law in Meerut after Pal's murder.
A few days before Pal's murder, police say Guddu threw caution to the wind and visited Bareilly jail, where Ashraf was lodged at the time. Like Pal's murder, his jail visit too was caught on CCTV.