If Cong. had not ruled the country, Modi and Shah would not have schools to study in, says Kharge
If the Congress had not ruled the country for 70 years, even Prime Minister Narendra Modi and Home Minister Amit Shah would not have schools to study in, said AICC President Mallikarjun Kharge.
Addressing a rally in Sakaleshpur in Hassan district on Saturday, April 29, Mr. Kharge said the BJP leaders keep asking what the Congress did all these years. The Congress started thousands of schools, colleges, built dams, and launched industries. "We have contributed lakhs of doctors and engineers to society. What has the BJP done except to divide people on communal issues," he asked.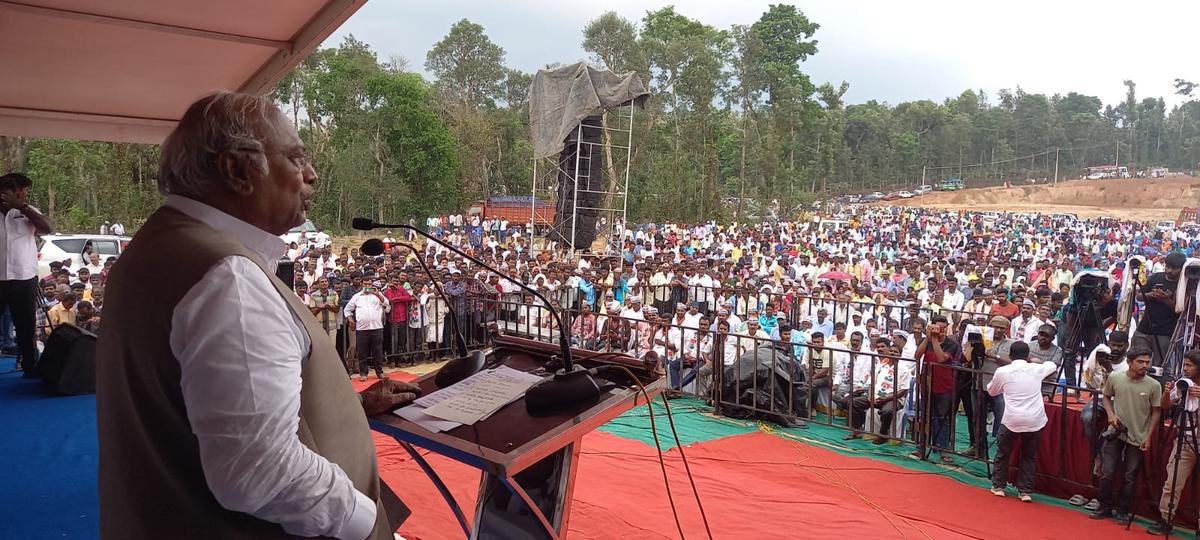 Commenting on the nine-year-rule of the Narendra Modi government at the Centre, he said the BJP had alleged that the Congress leaders had stashed black money in foreign banks and that it would bring it back to the country and distribute ₹15 lakhs to each family. "Did they bring the black money from foreign countries? Did they distribute money to families," he wanted to know.
Further, he remarked that Modi did not understand the problems of poor people. He had no experience working as an MLA. "Straight away, he was appointed Chief Minister of Gujarat. And, later, he was elected to parliament for the first time, and he was made Prime Minister. He hardly interacted with the common public," he said.
KPCC president D.K. Shivakumar appealed to people to vote for the Congress, listing the party's promises. He added that H.D. Kumaraswamy of the JD (S) had no chance of coming to power. "We had given him a chance, but he failed to continue in the post," he said.
Congress candidate Murali Mohan and others were present.