India's Hangzhou Asiad wishlist: Local SIM cards, veg food and an India House
Alternatives to WhatsApp, Facebook and Google for communication, availability of vegetarian Indian food, travel logistics, hiring translators, and the possibility of having an India House in China. These are among the demands that Bhupender Bajwa, India's chef de mission for this year's September-October Asian Games, is expected to raise at the April 25 meeting at the host city Hangzhou.
"We want to avoid any last-minute hiccups and figure out solutions to all these issues in advance," Bajwa told The Indian Express.
This follows a recent meeting where the country's Olympic sports officials were learnt to have been asked by government representatives to leave no stone unturned to ensure a record Asian Games medal haul as that could help in "boosting the morale and positivity" in the lead-up to the elections.
Last month, Sports Minister Anurag Thakur, after a meeting of the Mission Olympic Cell, had exuded confidence that the country would record its best-ever performance at Hangzhou. It is learnt that 600-700 athletes, the biggest contingent ever to represent the country at the Asian Games, will participate in all disciplines except cricket.
Bajwa said one of the issues on top of the agenda is to figure out modes of communication, given that most apps used elsewhere are blocked in China. Access to search engine giant Google and its email service has been blocked in mainland China since 2014, while WhatsApp was disabled in 2017. Facebook and Instagram too cannot be accessed from the mainland.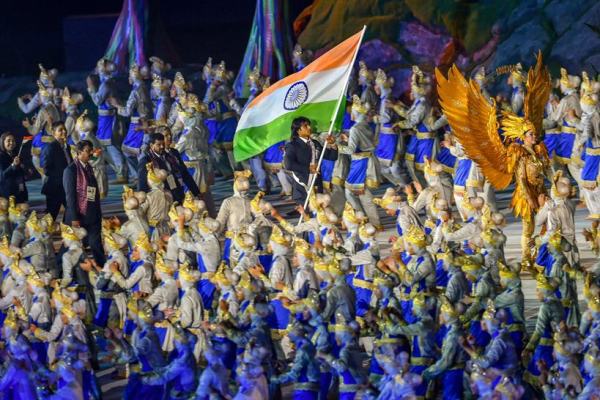 Star javelin thrower Neeraj Chopra bears the tricolour as he leads the Indian contingent at Gelora Bung Karno during the opening ceremony of Asian Games 2018. The players arrived in blue suits, smiling and with small flags in their hands, waving to the crowd. India has sent a contingent of 569 athletes who will participate in a total of 36 sports. (Source: PTI)
Indian players and coaches largely rely on WhatsApp for calls and messages while travelling abroad. Bajwa said he will request the Chinese organisers to provide local sim cards for the athletes and coaches to communicate with each other.
"We will ask them how many sim cards they will provide us, and from where can we procure them – whether at the airport, at the athletes' village or some other place," Bajwa said. "When teams land at the airport, they are greeted by a local liaison officer who also provides the team delegate a sim card. But we have many coaches and athletes who want their own sim cards for basic communication, like sorting out their schedules," he said.
Bajwa said his other priority will be to convince the organisers to allot space to set up an India House. "After reaching Hangzhou, the athletes, coaches and dignitaries can first go to the India House, enjoy the hospitality and then proceed to the village or any other accommodation," said Bajwa, who will represent India at the meeting next week.
The India House will be a hospitality zone on the sidelines of the Games that could also showcase Indian art, culture and cuisine, apart from hosting medal celebrations and meet-and-greet opportunities with athletes. In the past, India has twice tried to set up such a facility. The first attempt was during the 2016 Rio Olympics, but since the idea was floated just a couple of months before the Games, it had to be shelved. The Indian Olympic Association then tried again for the Tokyo Olympics and even identified its location, but with the pandemic-hit Games taking place in a bio-secure bubble, the plan was once again cancelled.
"Whether they accept our request and allot us space remains to be seen because, for them, it is a question of accommodating requests from the 45 countries that will take part in the Games," said Bajwa, who is also the president of the Wushu Federation of India. "If they agree, it will be very good for us."
Meanwhile, Hockey India informed the IOA on Thursday that it intends to send the men's and women's teams to Hangzhou at least a week in advance so that they can get acclimatised. A Paris Olympics berth is at stake for the Indian hockey teams, with the Asian Games doubling up as a qualifying event.
Five years ago, in Jakarta, the Indian women's team won a silver medal while the men had to contend with a bronze as both teams failed to secure direct qualifying, which is reserved only for the gold medal winners. This time, Hockey India wants to leave nothing to chance.
"Hockey India has told us they would like to reach Hangzhou a week or so in advance. We will now check with the organisers if athletes will be given entry into the village as well as access to training facilities one week in advance," Bajwa said.
The IOA will also request the organisers to rope in chefs from Indian restaurants in Beijing or Shanghai.
"If that doesn't work out, we will request the Indian government, and fly to Hangzhou with our own chefs," Bajwa said.