Masaba Gupta drinks triphala to 'reset' her body, rubs ghee on belly button for hydration; know more about these practices
Masaba Gupta swears by home remedies when it comes to taking care of her skin and gut health, something she has often shared on social media. As such, the Masaba Masaba actor sometime ago took to her Instagram Stories to post some remedies that she has been using to "reset my body".
In one of the initial pictures, captioned 'no place like home', she was seemingly enjoying a lazy day at home. In another, she wrote, "A nice, warm, 'triphala' drink to reset my body after all those hours of (inflammation) and flying…"
In yet another, she mentioned, "Oooo, and some good old warm ghee for a rub in the belly button to restore hydration. Ghee, commonly used in Indian cooking, is also prebiotic and helps settle pH levels of the gastric flora."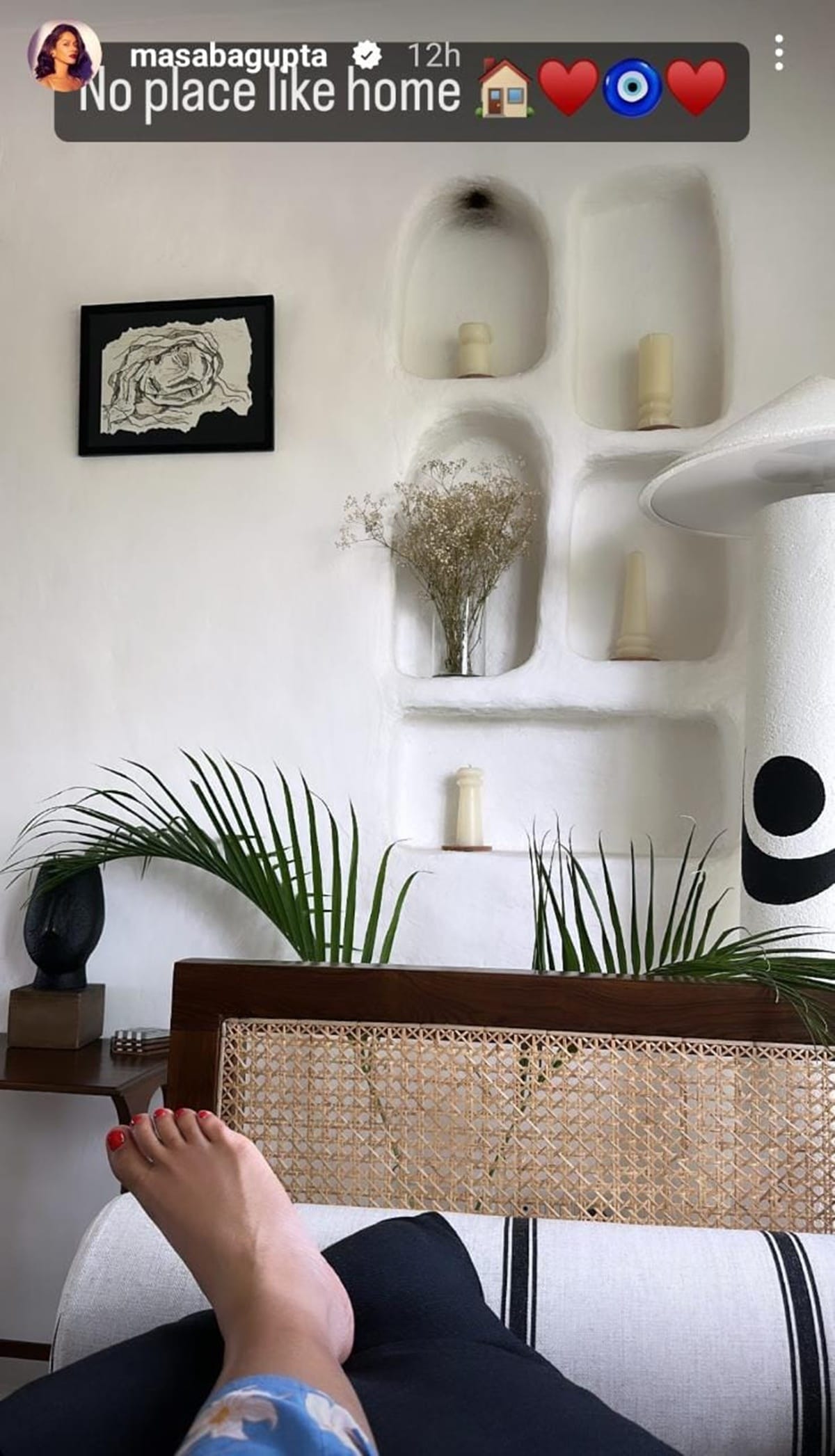 Masaba Gupta is back to her base (Source: Masaba Gupta/Instagram Stories)
How is ghee beneficial?
According to Ayurvedic practitioner Dr Ashutosh Nanal, when consumed, ghee becomes a prebiotic. However, registered dietitian Garima Goyal said that ghee is a dairy product and unlike prebiotics, doesn't contain any live bacteria that confers health benefits.
"Ghee is obtained from butter or cream and though is not a probiotic, it definitely works like one. Just like probiotics, ghee is smooth and light for the gut," said Goyal, adding that it does have some benefits when applied on the skin.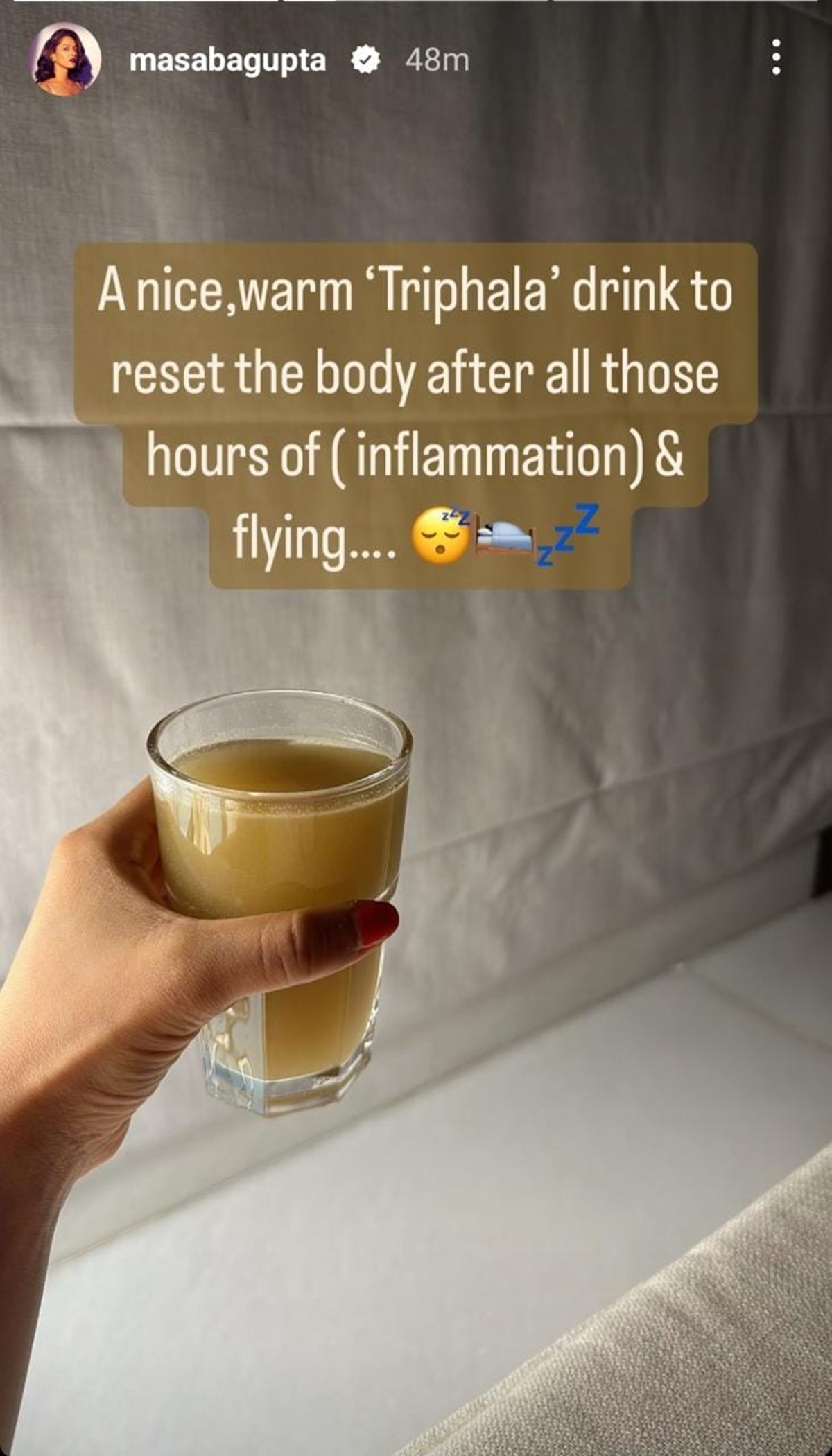 Masaba Gupta has Triphala drink (Source: Masaba Gupta/Instagram Stories)
How does triphala help?
The formula consists of the fruits amalaki, bibhitaki, and haritaki in equal proportions and has been used in traditional medicine in India for over 1,000 years, according to the writings of the great physician Charak in the Charaka Samhita, one of the foundational Ayurveda texts, said Devayani Vijayan, functional wellness practitioner and founder, Peak Performers Club.
According to Dr Anshu Vatsyayan, an Ayurvedic expert, supplementation of triphala is considered to be a good "detoxifying agent". "It helps to manage blood glucose levels, intestinal infections, and provides relief from constipation. As the name suggests, it works on all the three doshas as per Ayurveda — Vata, Pitta, and Kapha — due to its antibacterial, antioxidant, blood purifying and wound healing properties.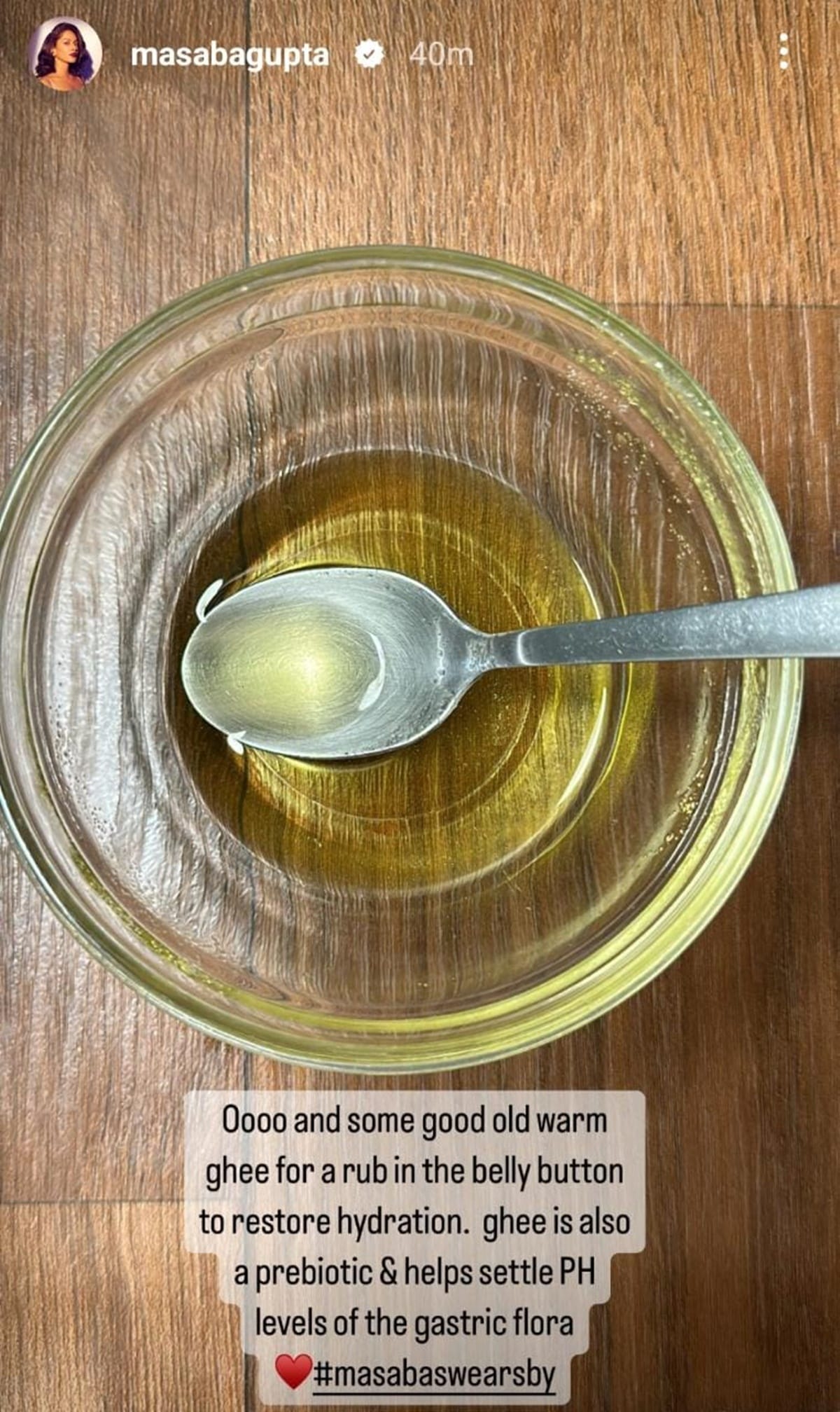 Masaba swears by ghee (Source: Masaba Gupta/Instagram Stories)
How to consume it?
If one suffers from constipation, soak the powder in water overnight. Filter it and drink the water. The powder can then be used as a mask on the face for a few minutes before being washed off that also helps keep the impurities away from the face, said Dr Vatsyayan.
She, however, cautioned against consuming triphala powder for long periods as it is "addictive in nature".
What about ghee?
According to Dr Vatsyayan, rubbing cow ghee on the navel may help combat dryness issues. Agreed Goyal, and said it acts as a natural moisturiser and makes the skin glow. She also added the consuming it in moderate amounts can help.
"Presence of butyric acid in ghee makes it colon-friendly and reduces the risk of developing gastrointestinal issues such as constipation, bloating, flatulence, or irritable bowel syndrome etc. It aids in faster digestion," said Goyal. Concurred Vijayan and said, "As ghee is made from butter and the primary fatty acid in butter is butyric acid or butyrate, which is a short-chain fatty acid (SCFA) that the intestinal tract thrives on, it helps to protect the integrity of the gut wall lining when consumed."
Dr Aiswarya Santhosh, an Ayurveda practitioner, also suggested on Instagram that foods like ghee, amla, raisins, rock salt, and triphala can be consumed for better eye health and eyesight, too.
📣 For more lifestyle news, follow us on Instagram | Twitter | Facebook and don't miss out on the latest updates!