Metcalfe House-Purana Qila stretch to be revamped
The stretch between Metcalfe House and Purana Qila will undergo an aesthetic transformation as part of L-G VK Saxena's directions, following his visit to the area.
Public conveniences, enhanced lighting, easy pedestrian movement, parking, smooth traffic, sculptures and fountains are at the core of the exercise, according to L-G House officials.
The stretch encompasses ISBT, Nigam Bodh Ghat, Salimgarh Fort, Samadhi Complex, the area behind Daryaganj, Samta sthal, JLN Marg, Dilli Gate, ITO and Mathura Road, among others.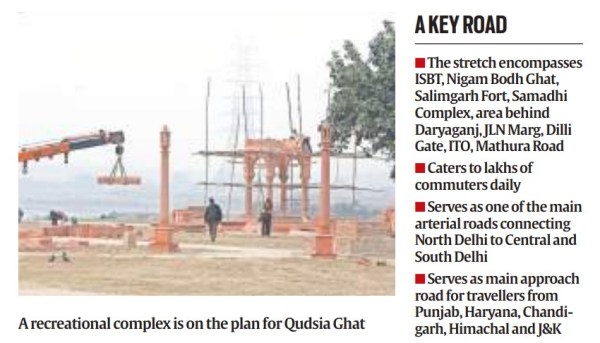 Apart from catering to lakhs of daily commuters, the stretch houses iconic sites and serves as one of the main arterial roads connecting North Delhi to Central and South Delhi. It serves as the main approach road for travellers from Punjab, Haryana, Chandigarh, Himachal and J&K, apart from those boarding and deboarding at ISBT. "After the L-G recently visited the stretch, mostly on foot, specific directions were issued for various tasks to be undertaken and completed within a fixed time frame," officials said.
"A detailed plan of action with a concrete achievable and timeline addressing all issues was issued after the visit last week, and work has already started," officials added.
Apart from aesthetic upgradation, sanitation, cleanliness, traffic management and augmented lighting, the plan also includes at least six public conveniences on both sides of the road at ISBT, smooth pedestrian movement between Chandgiram Akhada and ISBT.
These also include the installation of a decentralised STP for horticultural purposes and widening of carriageway at U-Turn near Kashmere Gate metro station, a multi-level and other parking at Nigam Bodh Ghat and refurbishing of the area around Hanuman Mandir.
Similarly, apart from developing a "Food Street" at Salimgarh Fort and a recreational complex at Qudsia Ghat, ornamental lights will be installed along the stretch, along with sculptures with fountains at crossings.
The L-G has also directed officials to come up with a concrete utilisation and beautification plan for the huge tract of land opposite Shakti Sthal.
Purana Quila lake will be installed with volcano type fountains and 3 fountains at definite intervals will be installed on Bhairon Marg, where the entire area around the Bhairon Mandir will be landscaped, officials added.