Nanditesh Nilay writes: What would Steve Jobs — once a backpacker in India — make of the Apple Stores?
If an apple showed Newton the power of gravity, the gravitational pull of Apple with an upper-case 'A' is there for all of us to see — on full display as Tim Cook dropped by. When our identities are fused with the phone we carry and defined and shaped by our feeds and posts on social media, groups and messages, from Good Mornings to Pearls of WhatsApp wisdom, the device is a powerful instrument of expression.
For one, it's slick, efficient, pricey. When Siri, Alexa, and ChatGPT are learning faster than us, when a person is a product and a product resembles a person, the Apple Store is our Garden of Eden where the forbidden fruit is available, even if some of us have to take it on EMI.
That's why the gravitational force led to long lines snaking around the malls in Mumbai and New Delhi. In our country, given that we are now the most populous, there are lines and there are lines but this line is comforting. This isn't the line of people at the bus stop during the lockdown, this is also not the line of angry passengers at New Delhi's T3 tweeting to the Civil Aviation Minister to come and fix their problem – this is the line of people, with money to spend, with a desire to upgrade, standing politely, no chaos, no hustle-bustle. These are not the poor who have slipped into the mall to catch the air conditioner – it is safe to assume that almost everyone in that line has an AC at home.
Let's not judge anyone, because, at one level, this marks a visible, tangible empowerment. People looked happy and emotional. It was a proud moment. Now India will not be just a growing market but also a manufacturing place for Apple products. It will be Made in India. In a market where smartphones range between a few thousand to a lakh plus, such lines are the emblem of aspiration. The variables of high cost, purchasing power, need, desire and the dream to be part of a resourceful and resource-full class is ubiquitous. To buy an Apple phone or a laptop is to prove a point to ourselves as much as to others.
As for Steve Jobs and his legacy, it's secure under Cook's watch. An empowered community which lives, talks, walks, sleeps, and feels, with the brand is brand commitment at its highest.
Technology is a leveller. Infosys's N Narayana Murthy once talked about the power of anonymity when a domestic worker and her employer both use their ATM card to withdraw cash. There is no bank teller who will discriminate. That's technology as a means. A smartphone can help flatten many inequities of class, caste, community as the user, riding on 4G or 5G, can access websites that teach, and links that inform. Of course, the circumstances of the user define her use. However, today, while opportunity may still be skewed in favour of the well-off it is flatter than it ever was. That's technology as means.
Commitment to a brand is when technology becomes an end in itself. The fact is that howsoever disruptive technology can be or will be, whether through machine learning or AI, the one brand that marks us out is humanity. Our empathy, the ability to think beyond self-interest, is what distinguishes Brand Human from any other. But when Brand Human becomes so defined and shaped by a product; when it needs a product to prop it up, are we letting technology become an end in itself?
Let's not forget that long before Cook, Steve Jobs, as a backpacker barely out of his teens, visited India. Not as a market but as a place to seek his spiritual self and to meet Neem Karoli Baba. He used to walk seven miles every Sunday to find a free meal at one of the ashrams of Hare Krishna. In his biography of Jobs, Michael Moritz wrote about how "the hot, uncomfortable summer, made Jobs question many illusions he had nursed about India. He found India far poorer than he had imagined." Later, in his biography of Jobs, Walter Isaascson talks about how Jobs was struck by an insight from India: Intuition and "experiential wisdom," the art of slowness and the capability to comprehend the big picture were all more common and powerful than intellect or the power of reason that is so celebrated in the "craziness" of the Western world.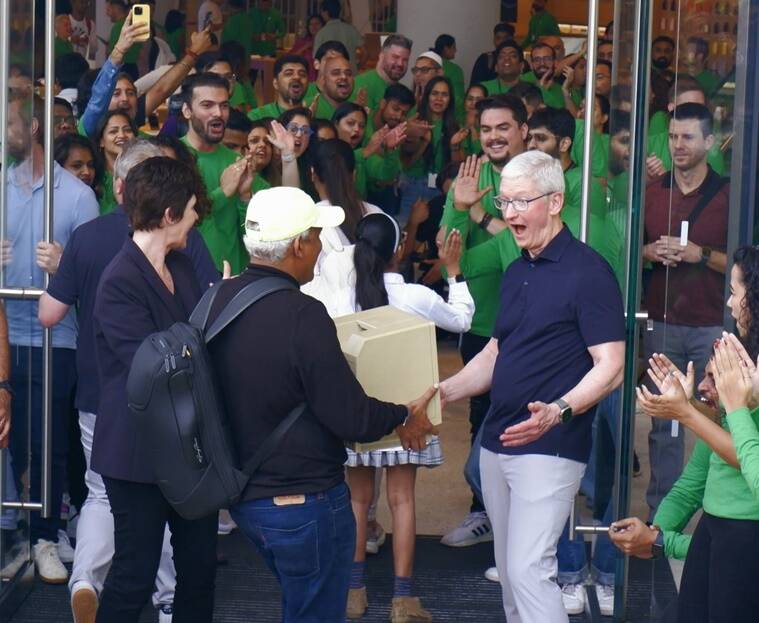 Apple CEO Tim Cook interacts with people who came for the launch of the store in Mumbai. (Express Photo: Pradip Das)
Part of what Jobs was saying is part of the cliché of the Western view of the Orient. But there's no escaping the fact that the Apple Store in India will, because of the world outside the store, be a different space from the one in Times Square in New York or Covent Garden in London. For, at walking distance from the Saket mall are countless homes where the cost of an iPhone will be more than the monthly household income.
So, looking down at the Saket store, what would Steve Jobs have made of it, what would he have told Tim Cook? Perhaps, he would have told him to visit Apple's manufacturing facility in India and maybe get the cameras there. So that he could stand in line, along with the women and men, who line up for their shifts to assemble Apple products.
The gleaming Apple store with aesthetic designs of Mughal-era gates makes for a vivid photo-op or Insta reel, but Tim Cook taking a selfie with the workers on the shop floor in a Tamil Nadu manufacturing unit may also have been a good visual. Compassionate capitalism shot on an iPhone!
Nanditesh Nilay is the author of Being Good, Aaiye, Insaan Banaen and Ethikos: Stories searching happiness. He teaches and trains courses on ethics, values and behaviour.