Parkash Singh Badal: The great reconciler of Punjab is no more
Sardar Parkash Singh Badal, 95, is no more. The five-time Chief Minister of Punjab, the towering man who strode like a colossus across the political landscape of the state for over seven decades, gently bowed out this evening. It's the end of an era in Punjab politics. The Shiromani Akali Dal (Badal) has lost its architect, and the state its great reconciler, a leader who believed in building bridges with disparate ideologies, to keep it on the path of peace.
Badal's journey in politics started with that of independent India, when he was elected as a sarpanch at the age of 20. And it would go on to mirror that of Punjab itself — from the wars with Pakistan and the crackdown during Emergency, to the decade–long militancy in the 1980s, he weathered it all.
A staunch Akali, he went to jail for various morchas (movements) – and was also imprisoned during Emergency — prompting PM Narendra Modi to call him the Nelson Mandela of India. Though a strong votary of federalism, he never adopted an anti-India stance even during the height of militancy in the state.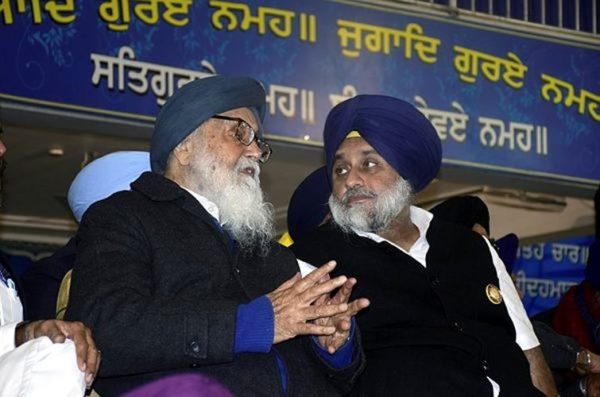 SAD patriarch and former CM Parkash Singh Badal and SAD President Sukhbir Singh Badal during the 'panthic gathering' at Manji Sahib Diwan Hall in Golden Temple complex in Amritsar. (Express photo by Rana Simranjit Singh)
Harcharan Bains, his political adviser for the last 40-plus years, says, "Like my mother who believed the term 'Hindustan' was first used in Guru Nanak's baani, Badal believed Sikhs have a strong role to play within India, that they are the protectors."
A firm believer in the moderate brand of politics, Badal forged four post-poll coalitions with the Jan Sangh despite their different ideologies in the early days of Punjab after its reorganisation in 1966. In 1977, he was a Union minister in the Morarji Desai-led Janata Party government.
Later, after militancy got over in Punjab, he stitched together a political alliance with the BJP, starting 1997, which would be one of the longest such partnerships in the country, and was widely considered a guarantor of communal peace in Punjab. It was finally undone due to the differences between the two parties on farm laws in 2021. He was also the first to offer his support to the minority Atal Bihari Vajpayee-led NDA government in 1996.
Badal also transformed the Shiromani Akali Dal from a panthic to a Punjabi party. At the 1996 Moga declaration, he gave the slogan of Punjab, Punjabi and Punjabiyat. Thereon, the party started fielding a large number of Hindu candidates. He was credited with the party's two successive wins in 2007 and 2012, which was unprecedented in the electoral history of the state.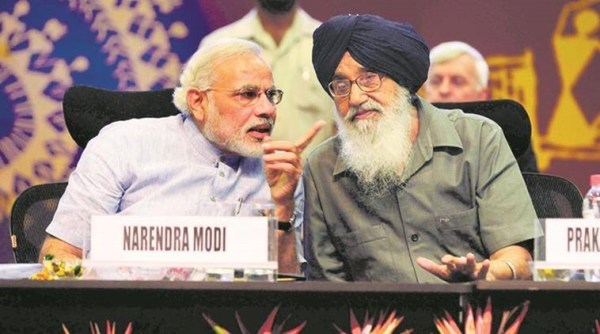 Badal with Prime Minister Narendra Modi (File)
In private though, he always made light of his electoral successes. A senior journalist recounted how he would say, "Assi kissi taraan ghusroo dabroo karke sarkar bana lende haan (We somehow manage to cobble together a government).''
Modi's praise for Badal was a reflection of his cordial relations with a galaxy of national leaders. He was the 'pag-wat (turban exchange)' brother of late deputy PM Choudhary Devi Lal and remained close to the Chautala family till the very end.
Before he started his career in politics as a sarpanch in 1947, lore has it that he wanted a government job and even got one as that of a tehsildar (a revenue official), but a relative, who was a minister, tore his appointment letter and told him to become someone who would give jobs.
From a sarpanch, he graduated to being the youngest MLA of the country at 25 and then to the youngest chief minister at 43. In 2022, he set another record when he became the oldest politician to fight a Vidhan Sabha election at 94. Weak after a bout of Covid-19, he said he was in the fray only because his party told him to. "They said they will win the elections if I contest,'' he would tell the crowds, village after village. He was swept away by the tsunami of the Aam Aadmi Party though, in one of his rare defeats. And he accepted it with folded hands.
Former Punjab CM Parkash Singh Badal with former PM Atal Behari Vajpayee. (Express archive photo)
That was quintessentially Badal, always humble, always accessible to the people who made him the CM for a record five times. He enjoyed being among people, and that was the secret of his longevity in public life. Unlike other leaders, he wouldn't camp in hotels or guest houses during his tour of the state, but would prefer to stay with party workers. Even arch rivals like Capt Amarinder Singh marvelled at his stamina, as Badal crisscrossed the state in his SUV.
In one of his last interviews, he remarked how the one thing that he was most proud of was the "sangat darshan''. "I would take government officers with me and meet people. I brought government to the doorsteps of the people, and ushered in unprecedented development.'' Come rain or shine, Badal would rise with the sun to meet people.
Young deputy commissioners remember getting calls from him early in the morning about sundry issues flagged in newspapers.
Like every politician worth his or her salt, Badal knew how the votes stacked up much before number-crunching pollsters came into the picture. His son and political successor Sukhbir Badal would say his father held a Ph.D in politics. When farmers, his biggest constituency, started feeling the pinch of diminishing returns, he introduced free power and water for them. He was also the first to woo Dalits – who have the largest share in the population in Punjab, compared to any other state — with his free atta-daal and shagun (a gift for girls) scheme, among others.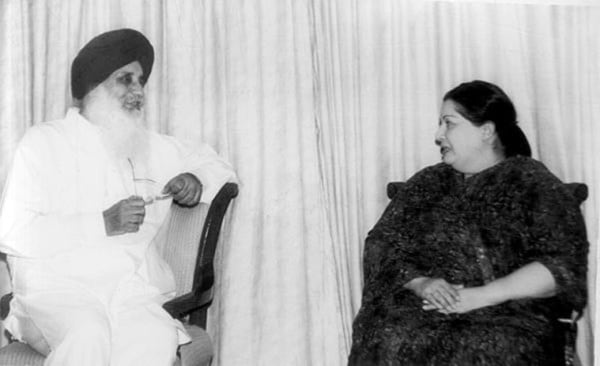 Punjab Chief Minister Parkash Singh Badal Badal with AIADMK Supremo J Jayalalitha in New Delhi. (Express archive photo)
At the same time, a shrewd politician, he fiercely guarded his turf, and sidelined any leader, be it Gurcharan Singh Tohra, Baldev Singh or Amarinder Singh, who could potentially challenge him.
He carefully strategized the ascent of Sukhbir to power by drafting him into party politics, before anointing him as the party chief and heir apparent in 2007.
With this, the Akali Dal, the second oldest party of India, known for its strong cadre, turned into a family affair. At one point, the Punjab Cabinet had three members of his family — Deputy CM Sukhbir Badal, son-in-law Adesh Partap Singh Kairon and Sukhbir's brother-in-law Bikram Singh Majithia, while Sukhbir's wife Harsimrat was a Union minister.
It eventually set the stage for the party's fall. Having got a drubbing in the 2017 Assembly polls, the Akali Dal posted its worst ever defeat in the 2022 Assembly elections, winning just three seats.
Badal also faces the charge of undermining the democratic character of the Shiromani Gurdwara Parbandhak Committee (SGPC) and Akal Takht, the two pillars of Sikh politics.
But one charge that hurt him the most was regarding the sacrilege incidents of Guru Granth Sahib under his watch in 2015. Both Congress and AAP governments blamed him for the police firing that followed at Kotkapura. Two years after a clean chit by the Punjab and Haryana High Court in 2021, he was named an accused in the Kotkapura firing conspiracy in March this year.
Soon afterwards, 'Wadde Badal Saab', as he began to be called after Sukhbir joined politics, wrote an open letter to Punjabis, calling for a probe into "the conspiracy" behind the "unfortunate" incidents of 2015.
In what were to be his last words to the state, he wrote, "Tried to do justice to everyone, respected everyone from any religion or faith and ensured peace and communal harmony in the state… My life is like an open book. I can never think of conspiring against the panth or Punjab."