Prithvi Shaw has failed to give us spark at the top: Ricky Ponting
At the start of the season, Delhi Capitals head coach Ricky Ponting had high hopes for Prithvi Shaw and even said that this will be opener's biggest season in the IPL. However, seven games into the season, Shaw has been dropped after a string of poor scores.
Cut to the present, Ponting made it clear that Shaw has failed to provide that spark at the top of the order, and he is currently not in the scheme of things anymore.
"It was six games this season, I think six or seven games in the back end of the last season. I think it is 13 games (12) since Prithvi has made a fifty while opening the batting," Ponting told the reporters here.
"We needed to find that spark at the top of the order, and Prithvi has failed to give us that start. Prithvi, we know, is a match-winner and was one of the reasons why he was being retained. We know if he bats through a certain amount of balls, we are going to win 95 per cent of the matches. So far this season, he has just managed 40-odd runs; that's just not enough," he said.
Ponting defended his pre-season prediction about the opener. He said: "When he arrived this year, he was with the NCA for a few weeks, working really hard on his fitness and was in good physical shape. His work ethic in training and what he did in the nets suggested to me that this might be a big year for him."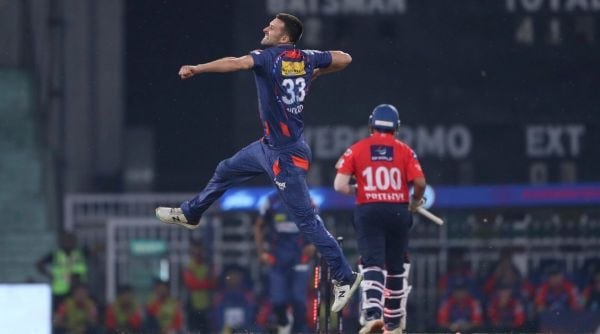 Mark Wood of Lucknow Super Giants celebrates the wicket of Prithvi Shaw of Delhi Capitals. (PTI)
"I actually came out and publicly said that on record that he might be our standout player throughout the tournament, but that hasn't worked out just yet but there's still a long way to go. If things don't work out with the current top order, there's no reason why he couldn't be back in the team and if he gets back, hopefully, he will be able to finish the tournament strongly."
Ponting said the role of anchor in T20 is dying as the team wants batsmen with higher strike rates at the top. "A look at all teams the way they are playing, everyone is going get off and have a flying start. We have not done that very much but other teams have gone absolutely berserk. If you look through most line-ups, they don't have batsmen with 115-120 strike rate up there, and if they lose a wicket, they send another explosive batter.
"I am a believer if you got aggressive, powerful batter and they can change their game and play the anchor role but an anchor cannot take their game to the strike rate of 200.
"I think only Rahane, who has done really well, who has changed himself from a low strike rate guy to a high strike rate guy. I feel that the actual role of anchors are dying," he said.
The Delhi Capitals coach is hopeful that after the frustrating first half, his team will bounce back and play quality cricket in the remaining matches. "It has been a reasonably frustrating start for us. If you look at our performances, we have failed to put high-quality cricket for 40 overs. One day we are good with the bat but not good with the ball, other day, we have been outstanding with the ball but not so good with the bat. As a team, we are looking forward to play good quality cricket in the second half of the season," he said.
Ponting also admitted that the mega auction broke the back of the franchise with their top players like Shikhar Dhawan, Shreyas Iyer, and Kagiso Rabada going to other franchises.
"We had a really solid Indian batting line-up. Shikhar, Shreyas, Rishabh and Prithvi at the top of the order, we had pretty much an international batting order, not many teams had that luxury.
"We were able to play Nortje and Rabada in the same side. It is bit different for us now. We have made a few changes at the top and in the middle-order, trying to find right formation. As a coach, that's the biggest challenge I have, when you lose some of the star players, how quickly you can rebound and rebuild and that sort of rebuilding is underway for us.
"In an ideal world as a coach, I don't want to be making lot of changes and if you are doing that, it means you are not performing well," added Ponting.