Riding without helmet: Over a lakh challans issued in Delhi so far this year
Over one lakh challans were issued by the Delhi Traffic Police so far this year to commuters for riding without helmets, officers said, attributing it as one of the reasons for the highest fatalities on roads.
According to data, from January 1 to April 15, a total of 1,70,284 challans were issued to violators against 1,14,908 fines issued last year and 34,346 challans issued in 2021.
Data showed that Northeast Delhi's Gokalpuri, with 17,847 challans, emerged as the traffic circle with the highest instances of commuters not wearing helmets while riding their two-wheelers. Last year, Khajuri Khas in Northeast Delhi emerged as the traffic circle with the highest prosecution for the offence, with 25,721 challans.
A senior traffic officer said, "Not wearing helmets while riding on a two-wheeler is one of the top reasons for fatalities in road accidents… it is often noticed that while the rider is wearing a helmet, the pillion rider is not and, hence, a challan is issued."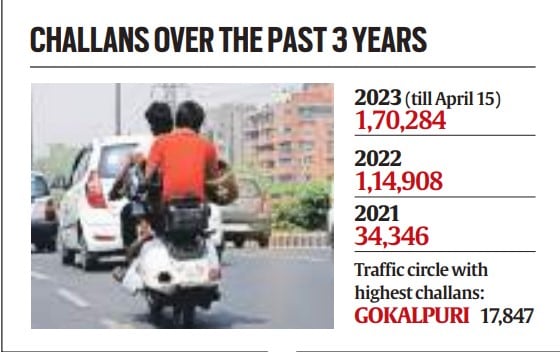 The officer said that a drive has been started by Delhi Traffic Police against violation of driving without helmet through e-challan machines and violation on camera application (VOCA).
Under the Motor Vehicles Act, a fine of Rs 1,000 is issued to the commuter for riding without a helmet and the person's licence can also be suspended for a maximum of three months.
Another traffic officer said: "We have deployed traffic inspectors across crucial traffic circles and intersections. The inspectors either detect offenders manually or use VOCA installed on their phones to click pictures of riders commuting without helmets, which is then communicated to the traffic headquarters in Todapur to record a violation. Besides, general commuters can also use the Traffic Sentinel application on their phones to report the offence."
Traffic experts pointed to the need for infrared sensor cameras with high vision, which is dedicated to capturing the picture of a commuter travelling without a helmet and his or her number plate.
Road safety expert Professor PK Sarkar termed the prosecution figure much lesser than the actual number of incidents: "Manually clicking photos or identifying offending commuters does not serve the purpose as traffic inspectors will not be physically able to capture all violations due to the less manpower in place."
He added that infrared sensor cameras, which are already in use in several other countries, should be placed at identified spots or circles which report most instances of commuters riding without helmets. "These cameras will communicate the captured violation to the traffic headquarters for further action…," he suggested.
The Delhi Traffic Police currently only has RLVD (Red Light Violation Detection) and OSVD (Over Speed Violation Detection) cameras in place across the city.