Three States, two national highways, 100 elephants & conflict all around
The National Highways Authority of India (NHAI) has proposed an elephant pass in the Sanamavu Reserve Forests (RF) near Hosur, along the NH 844, to enable elephants to migrate from the Cauvery Wildlife Sanctuary in Tamil Nadu to Andhra Pradesh and back. But the existing highway, NH 44 connecting Chennai and Bengaluru, that runs parallel to NH 844, continues to carry heavy traffic and what has been nearly forgotten, is that in the not-so-distant-past, there was a proposal for three eco-bridges on this highway.
In its application before the Supreme Court for the removal of 901 trees in the Sanamavu Reserve Forest of Krishnagiri, the NHAI has said that the NH 844 is part of Bharatmala, connecting Bangalore Urban District (Karnataka) to Dharmapuri (Tamil Nadu). As the NH 44 could not be made eight-laned due to the Hosur region becoming an industrial hub, it was decided to improve this existing alternative road, earlier SH 17 and now upgraded as NH 844, in order to avoid congestion in Hosur town. NHAI also said the travel distance would be reduced by 19 km between the two cities, and after completion of the project, it is expected that around 40% of traffic on NH 44 will be diverted to NH 844. The alignment plan submitted along with the application has a provision for an elephant underpass.
"There are definitely elephants crossing in the Sanamavu Reserve Forest along NH 844. That is why we have designed an underpass," says an NHAI official. The NHAI document states that human – elephant encounters in the area are a regular occurrence. Elephant herds usually comes out of the RF and damage crops and sometimes challenge human life in the villages of Beerjapalli, Aagaram, Azhiyalam and Podur Pallam, adjoining the forest.
Though the highway passes for one km along a forest stretch, the proposed elevated corridor will have eight 30-metre stretches, spanning to a total length of 240 metres, with a 4.5 metre vertical clearance section, costing ₹47.03 crore.
Asked if there were plans to have a similar underpass on NH44 as well, NHAI officials said there was a discussion some years ago about this, but there was no current proposal.
On the need for eco-bridges
The need for eco-bridges to restore migratory elephant corridors on NH44, first began in 2016. After a major accident in June that year involving the death of elephants, the then Krishnagiri District Collector held a meeting of line departments and discussed ways to avoid frequent fatal accidents.
All senior officials in the district inspected the area and then discussed the construction of eco-bridges at five points. The District Collector directed the NHAI Krishnagiri unit's project director to submit a proposal for the construction of eco-bridges at three important crossing points – Sanamavu, Kamandoddi and Melumalai, where elephants were frequently crossing the highway.
"These points are not part of a traditional elephant corridor. They are frequented by elephants due to the seasonal movement of crop-raiding elephants that go back and forth between Karnataka, Tamil Nadu and Andhra Pradesh, beginning in the 1990s. About 50% of the elephants that cross NH 844 arrive at NH 44," says K. Karthikeyani, Wildlife Warden, Hosur. "We try to restrict them from crossing NH 44 as the fragmented forests beyond this are not viable habitation for elephant herds. As of now, the focus is to contain the elephants within the Cauvery North Wildlife Sanctuary limits," she says.
The Cauvery North Wildlife Sanctuary that starts from Bannerghatta National Park, is a contiguous stretch of forests on the south side, and fragmented forests in the north and the east. These fragmented patches render the elephants that stray, vulnerable to negative interactions with humans. These negative interaction are starkly portrayed in similar numbers every year: an annual average of 6 to 8 elephant casualties; 8 to 10 human casualties and over 250 hectares of crop damage affecting 1,000 farmers, according to Forest Department accounts.
Another issue is that Lantana camara, an exotic weed, has invaded the foraging landscapes of the forests, pushing the elephants out of the sanctuary and into human habitations. This invasive species has taken over 40% of the forests in this region, accentuating a crisis of habitat loss also fed by a range of other factors, according to the Forest Department.
Stopping elephants from straying
Now, however, the Forest Department is constructing a physical barrier of a steel-wire rope fence, first seen in the Addo National Park in South Africa, and later tried and tested in the Mudumalai Theppakadu Sanctuary for six months. It was tested on a pilot basis in the Jawalagiri forests as well. This fence, comprising vertical pillars with horizontal wires, will pose a physical obstacle to the elephants, preventing them from straying outside the sanctuary.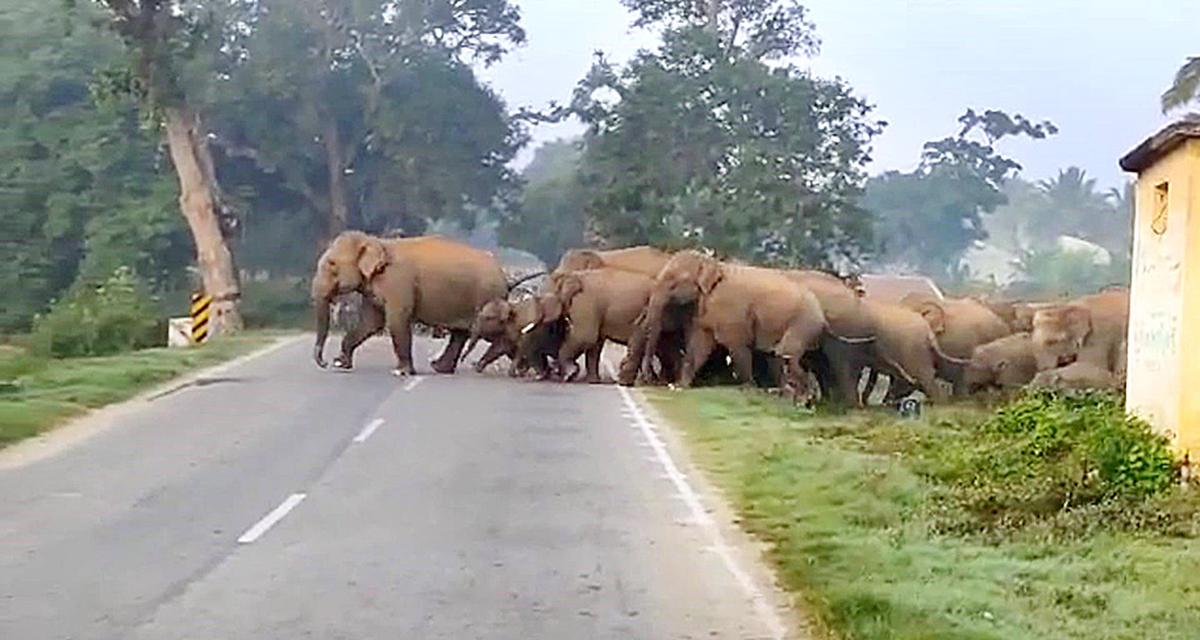 It is proposed to barricade nearly 120 km of vulnerable stretches with this steel wire fencing. Work has already begun on a stretch of 30 to 35 km of the northern part of the sanctuary. So far seen as fool proof, however, these physical barriers are pushing elephants into the eastern fragmented patches of Dharmapuri, says Dharmapuri District Forest Officer K.V.A.Naidu.  
This was borne out by the elephant casualties of last month, when four elephants were killed by electrocution after straying into human habitations. This led to calls to set up similar steel wire fences at the eastern end of the sanctuary, which falls under the newly-declared Cauvery South Wildlife Sanctuary. 
Meanwhile, about 200 non-resident, migratory elephants start their journey from Bannerghatta National Park in Karnataka around October every year, a journey that continues until April, when they return to the park. It is this migration along the Cauvery Wildlife Sanctuary that is a contiguous forest stretch for a significant number of sq.km and fragmented in parts, that is fraught with human-animal negative interactions. This migration of non-resident elephants also pushes resident elephants to the forest fringes and outside.
Some herds continue to go into Andhra Pradesh, crossing NH 44. Earlier, they used to cross during Deepavali and return during Pongal. Now there is no particular season or routine, says A. Prakash, forest veterinarian, Hosur. The elephants are fond of fields and orchards of ragi, mangoes, tamarind, tomatoes, and paddy. 
Human-animal conflict
There is still however, no scientific data on why the elephant herds cross into Andhra Pradesh. In a 2009 paper on human – elephant conflict (HEC) in the Koundinya Wildlife Sanctuary, the renowned (late) elephant expert Ajay Desai and his team noted that in the early 1980s, a herd of elephants moved into Kuppam and Palamaner forests (now the sanctuary) from Hosur in T.N. and later, more migrated in 1986. Twenty-four deaths were reported between 1987 and 2003, half of them due to electrocution during crop raiding, and 45 people were killed in almost the same period. Over the years, HEC declined as the elephant population declined from about 80 to 12 individuals with 56 problematic elephants translocated out of the isolated pockets, the study revealed.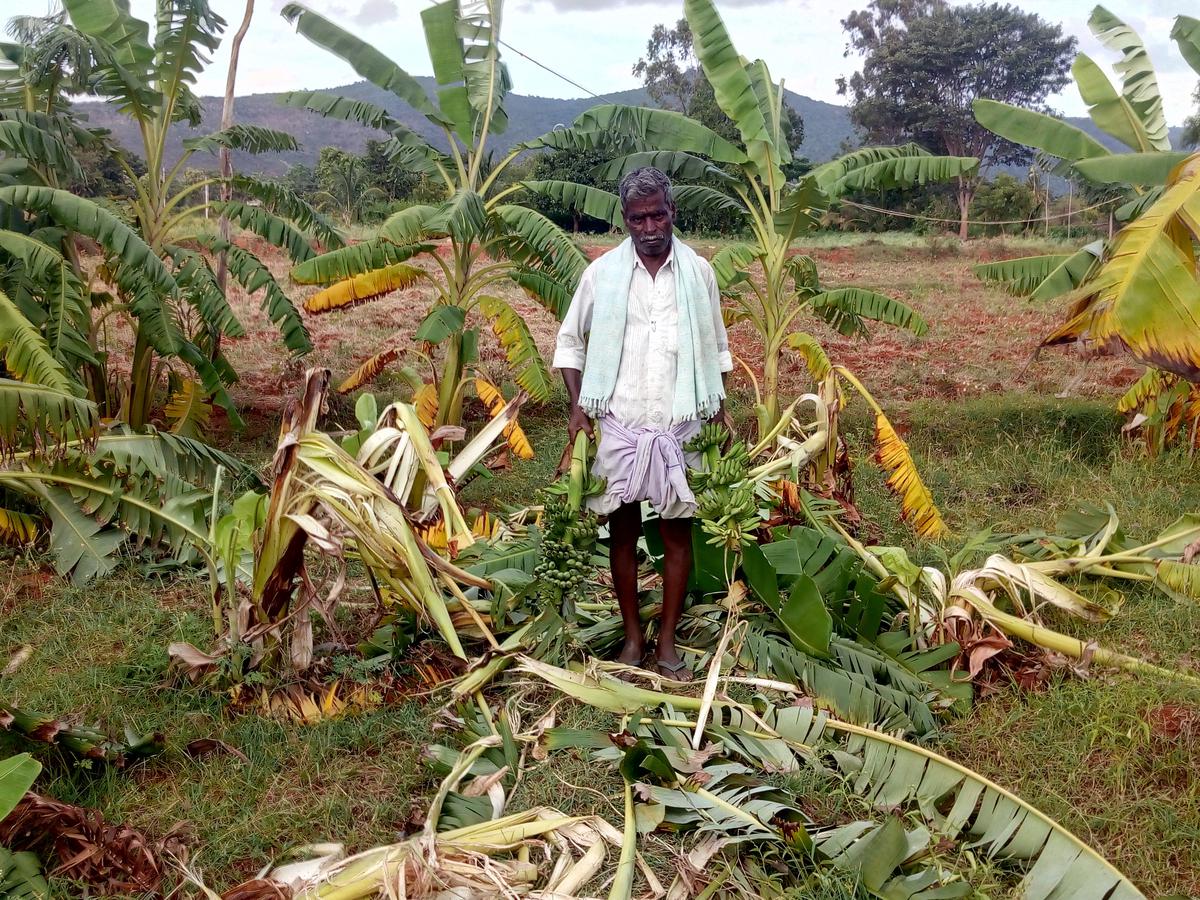 Even now, three elephant herds numbering seven, 13 and eight have crossed over and are locked on the AP side. With the linear structure of the Koundinya sanctuary, the elephants get down into Vaniyambadi and Gudiyatham forests leading to conflict with humans, officials say. HEC has been taking place on both sides of the border. The forest teams here chase herds to the AP side only to see them chased back in a week's time, they point out.
The migratory herds' movement along fragmented forest landscapes is also fraught with dangers from abandoned mines, industries, electrocution, roads and railways, open wells, crop and property damage and human casualties. 
Not all migratory herds from Bannerghatta however, move towards Andhra Pradesh.  The map of crop damage though, shows an increasing pattern of herds moving away from the sanctuary. "Earlier, crop damage was seen close to the sanctuary. But this is now extending farther away from the sanctuary's boundaries every year," says Ms. Karthikeyani. 
A range of reasons are attributed to this change in behavior of the herds. All migratory herds move with their young ones who need nourishment. The degradation of forests inside the sanctuary, availability of nutritious crops outside; land use patterns and disturbances to their habitat and encroachments have all destroyed the equilibrium of the elephant herds.
"This landscape is a unique elephant habitat comprising the Nilgiris and Eastern Ghats. These inter-State corridors will ensure a viable population in this landscape," says M. Santhanaraman, advocate, Madras High Court.
The three State governments should coordinate to re-establish the elephant corridors in this landscape especially by providing elephants pass bridges along national highways that cut across the elephant migratory routes and also restore fragmented habitats, he says.
(With inputs from P.V. Srividya)