World Haemophilia Day: Why a 45-year-old man travels 254 km to Pune to prevent his bleeding
Over the years, 45-year-old Nitin Patil, a primary school teacher at Solapur in Maharashtra, has been patiently dealing with his bleeding episodes. But the ice packs and first aid no longer work. Such is the agony that his knee joints have almost buckled and he is unable to walk properly. He has been a patient of haemophilia and those with this condition do not have enough clotting factor – a protein that controls bleeding. Says senior clinical haematologist, Dr Vijay Ramanan, "These patients need replacement factor support for all surgeries, otherwise their bleeding could turn fatal."
This is why Nitin travels all the way to Pune, a good 254 km away from Solapur, at the slightest emergency. "What is urgently needed at smaller centres is factor support treatment," says Dr Ramanan. Access for patients like Nitin is the theme of this year's World Haemophilia Day.
Rare, genetic disorder
This is a disease that generations of Russian imperial families dealt with. According to Dr Ramanan, bone marrow transplant physician, Ruby Hall Clinic, Pune, it is now a disease of the downtrodden. A genetic disorder that prevents a person's blood from clotting regularly, the problem lies with the lack of Factor VIII and Factor IX out of about 13 blood clotting factors. It's a rare disease and Dr Ramanan says estimates indicate that about one lakh Haemophilia A (Factor 8/ VIII) and about 15,000 Haemophilia B are affected with this bleeding disease. The body is not able to produce this anti-haemophilic factor and fresh blood transfusion is required in case of an internal or external bleed.
Bleeding disorder transmitted from the maternal side, can be prevented by antenatal diagnosis
According to the Haemophilia Federation of India, the peculiar aspect about this disease is that only males suffer from it while females are the carriers. It is transmitted from the maternal side and the gene is on Chromosome X — a sex chromosome. "Men have only one copy of the defective gene and women have two copies," explains Dr Ramanan. "So, men develop the disease while women are able to hide the disease. This means that women are carriers and pass it on to their sons. However, as this is a genetic disease, this is preventable by antenatal diagnosis," he adds. About one-third of the new cases are caused by a new mutation of the gene in the mother or the child, according to the Haemophilia Foundation. In these cases, there is no previous history of haemophilia in the family.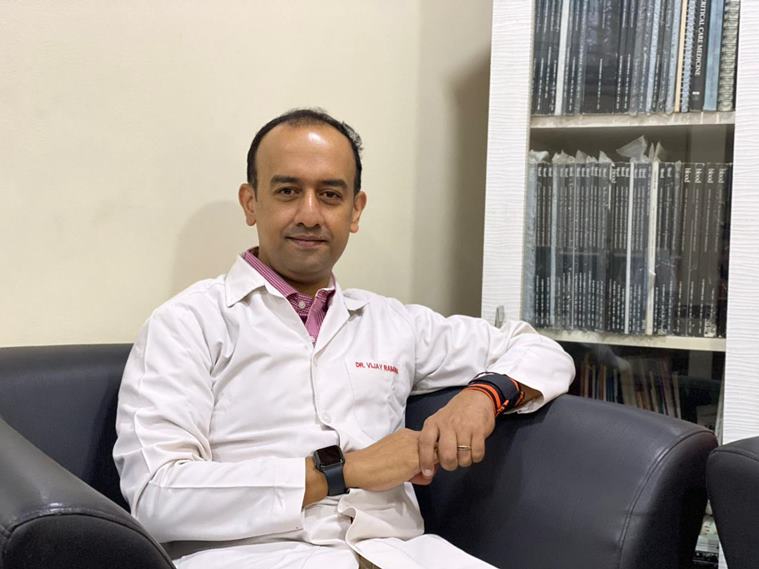 Haematologist Dr Vijay Ramanan
Challenges to treatment, poor quality of life
Patients with haemophilia have bleeding in joints from an early age, usually in weight-bearing joints like the knee, ankle and hip, says Dr Ramanan. Later on, this bleed could occur in muscles and internal organs. The approximate incidence is 20 per one lakh live births for Haemophilia A and two per one lakh live births for Haemophilia B. Factor support should ideally be given prophylactically but in India, it's given on-demand. This leads to progressive damage to joints reducing the quality of life. Earlier the factors were blood plasma-derived but now there are recombinant factors. At present, there are prolonged-acting factors but they are also expensive, the haematologist says.
The majority of patients end up getting blood products like FFP and cryoprecipitate in the periphery, which increases the risk of developing HIV, Hepatitis B, and Hepatitis C. According to the World Haemophilia Foundation, inhibitors cause a serious medical problem when a person with haemophilia has an immune response to treatment with clotting factor concentrates. They may develop an antibody to the factor, making it ineffective. Such patients may just be a mere two per cent of those affected but they need even more expensive treatment like FEIBA, 4F-PCC and Emicizumab, Dr Ramanan says.
Challenges of haemophilia care
There is still a lack of awareness about the disease. "Its rarity, the lack of physiotherapy centres specifically for haemophilia and the costs are a concern. The Haemophilia Federation of India and the World Federation of Haemophilia are doing their best to train manpower and provide factors at concessional rates," says Dr Ramanan. But much more needs to be done.