The fallen colleagues worked for the UN agency that assists Palestine refugees, UNRWA, providing life-saving aid to Gaza's 2.2 million people, amid constant bombardment and a complete siege of the enclave.
They included school principals, teachers, doctors, engineers, guards, and support staff. Many were killed along with their family members.
Minute of silence
UN officials and staff at duty stations worldwide observed a minute of silence in their memory, while the UN flag was flown at half-mast.
Speaking in Geneva, Tatiana Valovaya, Director-General of the UN Office in the Swiss city said the 101 deaths represented the highest number of aid workers killed in UN history in such a short time.
"Thousands of our colleagues continue to work under the U.N. flag in [the] most risky parts of the world. And let's pay tribute to their activities, to their work, to their devotion," she said.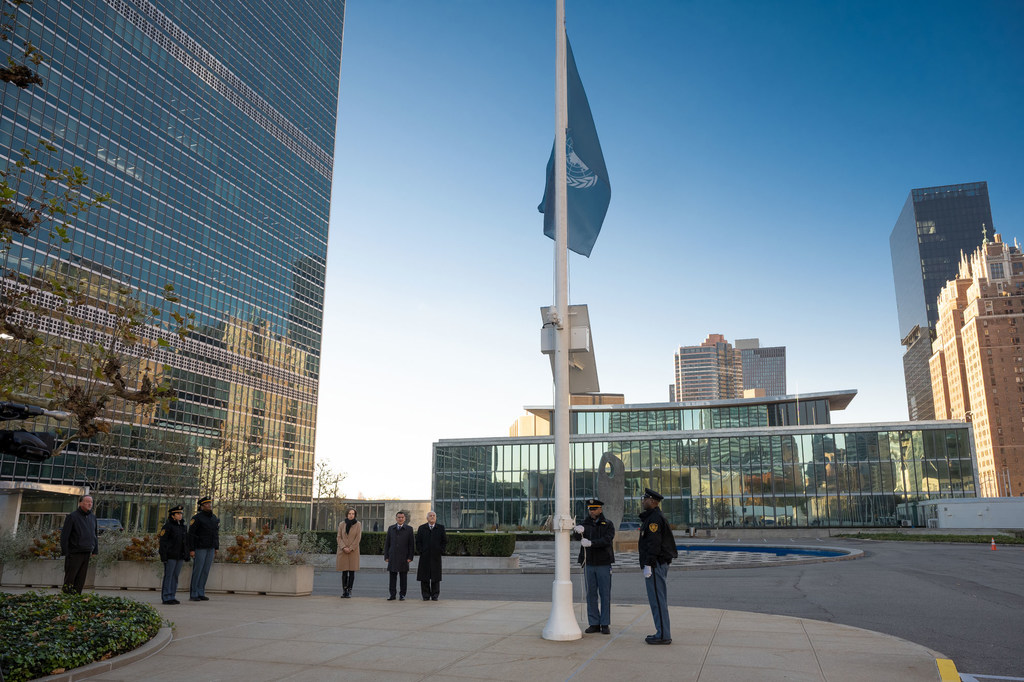 Secretary-General António Guterres led the minute of silence at UN Headquarters in New York, which was held in the Economic and Social Council (ECOSOC) Chamber.
He stood before some of the UN's Resident Coordinators, who are meeting in New York this week, flanked by Deputy Secretary-General Amina Mohammed and the President of the UN General Assembly, Dennis Francis.
Meanwhile, the UN Staff Union held a ceremony in the Secretariat lobby where the names of the deceased colleagues were read aloud.
"May they rest in eternal power and peace," said First Vice-President Francisco Brito, surrounded by colleagues, some of whom held signs that said 'responsibility to protect' 'stop the killing,' 'protect civilians' and other appeals.
UN flag lowered
The commemoration at the Secretariat began around 7:30 AM, with the UN flag being raised to half-mast – the sole one flying that day.
Normally all the flags of the UN's 193 Member States and two observer States – Palestine and Vatican City – are raised each weekday morning, and in alphabetical order, then lowered in the afternoon.
The Permanent Observer of the State of Palestine, Riyad Mansour who attended the simple ceremony in front of the Secretariat, said the gesture honoured the deceased UNRWA staff members and all "Palestinian martyrs", including thousands of children killed in the "barbaric war".
He stressed the need for an immediate humanitarian ceasefire in Gaza, along with "hundreds of truckloads" of aid, medicine and water.
"And we want to stop the crime against humanity of forced mass transfer…to allow the Palestinian people to stay in the Gaza Strip. It is our homeland," he continued.
"We don't want to live a second Nakba. We want to stay in our homeland and to rebuild the Gaza Strip."
Mr. Mansour also expressed hope for "a political horizon" to end the occupation "so that Palestinian people can live in freedom and dignity in our independent State, with Holy Jerusalem as the capital of our State."
More to follow…