The vicinities of Shifa and Al Quds hospitals in Gaza city and of the Indonesian hospital in northern Gaza, have been bombarded over the weekend, UN humanitarian affairs coordination office OCHA said.
"This followed renewed calls by the Israeli military to evacuate these facilities immediately," OCHA added.
Relief chief: Protect civilians 'wherever they are'
"Palestinian and Israeli civilians have suffered enough", UN relief chief Martin Griffiths wrote on social platform X on Monday. He revealed that he is in Israel and the Occupied Palestinian Territory and "will be discussing with the leadership of both parties how we can ramp up the humanitarian response".
"My plea to all parties is: free the hostages. Protect civilians, wherever they are. Allow the delivery of aid swiftly, safely and at scale. Respect international humanitarian law," he wrote.
Evacuation remains 'impossible'
According to OCHA, some 117,000 displaced people are sheltering in the 10 hospitals still operational in Gaza city and elsewhere in northern Gaza, which have received "repeated evacuation orders" in recent days.
UN health agency WHO reiterated overnight on social platform X that "evacuation of hospitals is impossible without endangering patients' lives".
Humanitarians keep working
Emergency C-sections are being performed without anaesthesia amid shortages of medical supplies and power, and doctors are sometimes left delivering the premature babies of dying mothers, UN sexual and reproductive health agency UNFPA said, citing harrowing testimony from Shifa Hospital staff.
The UN agency for Palestine refugees, UNRWA, said on Monday that its aid workers in Gaza "keep going", providing assistance to over 600,000 people who have sought safety in UN Palestine refugee relief organisation (UNRWA) shelters, now more than three times over capacity.
"They are the face of humanity during one of its darkest hours," UNRWA said.
The agency held a memorial service on Sunday for 59 of its personnel killed in the conflict so far and UN chief António Guterres stressed his "gratitude, solidarity and full support" to colleagues working to save lives in Gaza while risking their own.
Death toll keeps rising
As of Sunday evening the death toll in Gaza since 7 October passed the 8,000 mark, according to the Hamas-run Ministry of Health in Gaza.
OCHA also said that Palestinian armed groups' indiscriminate rocket firing towards Israeli cities and towns continued over the past 24 hours, with no fatalities reported.
According to the Israeli authorities, 239 Israelis and foreign nationals, including some 30 children, remain captive in Gaza and 40 people are still reported missing following Hamas' terror attacks on Israel on 7 October which killed 1,400 people.
The UN has repeatedly called for the immediate and unconditional release of the hostages. Mr. Guterres repeated on Sunday that "there is no justification, ever, for the killing, injuring and abduction of civilians".
Listen to a UN News interview from 25 October with a senior World Health Organization (WHO) official from last week on the challenges faced getting medical supplies into Gaza:
Much more aid needed
OCHA said that on Sunday "at least 33 trucks" carrying water, food, and medical supplies entered Gaza through the Rafah crossing with Egypt, the largest such delivery since limited convoys resumed on 21 October.
"While this increase is welcome, a much larger volume of aid is needed on a regular basis to prevent further deterioration in the dire humanitarian situation, including civil unrest," OCHA stressed. Before the 7 October Hamas attacks, close to 500 trucks a day reportedly entered Gaza.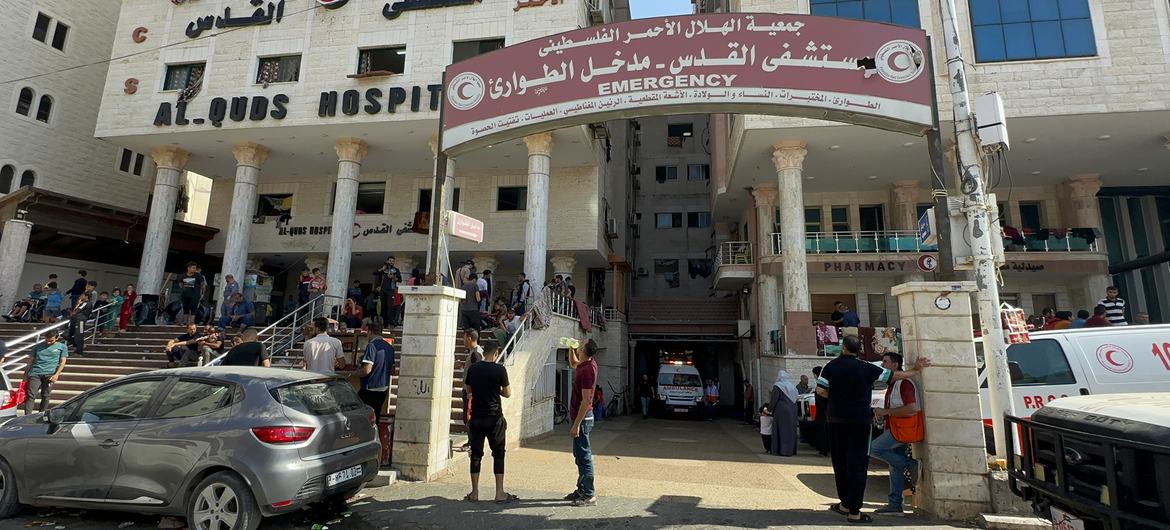 Over the weekend – amid UN relief team warnings that people are already going hungry in Gaza – thousands of people broke into several UNRWA warehouses and distribution centres, taking wheat flour, hygiene supplies and other items.
At the same time, a telecommunication blackout lasting over 24 hours cut Gazans off from the rest of the world and from each other. UNRWA's Operations Director, Tom White, described the development as "a worrying sign that civil order is starting to break down after three weeks of war and a tight siege on Gaza".
OCHA stressed once again that the entry of fuel, which has not been allowed on the aid trucks, is "urgently required" to operate medical equipment and water and sanitation facilities.