Mr. Wennesland told the Security Council that he "watched in horror and in real time" as reports of mass casualties emerged from Al-Ahli Hospital in Gaza City on Tuesday.
"The circumstances of this catastrophe and responsibility remains and still needs to be clarified. And we will need a fact-based, full investigation and broad investigation," he said, speaking from Doha.
Brink of an abyss
Mr. Wennesland, officially UN Special Coordinator for the Middle East Peace Process, updated the Council on his efforts to end the current hostilities, which he called one of the most difficult moments facing Israelis and Palestinians in 75 years.
He unequivocally condemned the Hamas militant group's deadly attacks on Israel on 7 October, and seizure of hostages, saying there is no justification for these acts.
"I fear that we are at the brink of a deep and dangerous abyss that could change the trajectory of the Israeli-Palestinian conflict, if not of the Middle East as a whole," he said.
After more than a century of conflict and over half-a-century of occupation, the international community had failed to bring the parties to a just, sustainable political resolution, he said. The recent events have served to re-ignite grievances and re-animate alliances across the region.
"The risk of an expansion of this conflict is real – very, very real – and extremely dangerous," he warned.
Diplomatic efforts
Mr. Wennesland has been working to avert this threat. He and the UN Secretary-General have been in constant communication with both the parties and regional and international actors "who have agency and influence".
For example, meetings and ongoing discussions with leaders in Egypt have focused both on facilitating access for humanitarian aid into Gaza through the Rafah Crossing, the sole one into the enclave, and "our shared concerns and efforts to rein in further regional hostilities."
The day after, we need to start working on now – Tor Wennesland
The envoy will return to Cairo on Thursday to join the Secretary-General in continuing these discussions, and he also welcomed the Egyptian President's swift convening of a summit of world leaders to discuss the crisis.
Eye on the prize
"With the parties on the ground in Jerusalem, Tel Aviv and Ramallah, my message has remained steadfast, that we must not let the dynamic of the current conflict take our eyes off what I will call the day after," he continued. "The day after, we need to start working on now."
Mr. Wennesland stressed the need for time and space to achieve two urgent objectives, namely Hamas's immediate, unconditional release of all hostages, and unrestricted access of humanitarian aid into Gaza.
He further appealed for collective efforts to end the hostilities and prevent any further expansion of the conflict to the region. "Regarding West Bank and Lebanon, there should be no miscalculation, no provocation and no step that closes the door for our current efforts," he said.
The envoy also underlined the ultimate need to work towards a long-term political solution, in line with UN resolutions, international law and previous agreements.
Relief chief supports probe
UN Humanitarian Coordinator Martin Griffiths supported the call for a fact-based inquiry into the deadly blast at Al-Ahli Hospital, noting it had also been hit last week.
"This tragedy is characteristic of the crushing impact this conflict has had on civilians and…the catastrophic consequences it will have if it continues to escalate, as we fear," he said, speaking from Cairo.
The UN relief chief detailed the damage the already beleaguered Gaza health system has sustained in the conflict. Since 7 October, 28 health workers have reportedly been killed and 23 injured.
What we desperately need – is immediate safe humanitarian access – Martin Griffiths
Health services are overstretched and on the verge of collapse, meeting the needs of the rising number of wounded patients in the face of ever-deepening shortages of fuel, medicines and supplies.
Death, destruction, displacement
Overall, more than 3,000 people in Gaza have been killed, including 14 staff members from the UN agency that assists Palestine refugees, UNRWA. More than 12,000 people are injured and hundreds more are unaccounted for.
Mr. Griffiths reported that the death toll has already exceeded that of the 2017 hostilities which lasted more than seven weeks.
"The pace of death, of suffering, of destruction, of breaches of international law, cannot be exaggerated," he said.
Meanwhile, one million Palestinians have escaped their homes with nowhere to go, and as supplies of food, water, fuel and medical items dwindle. UNRWA has been forced to ration water to one litre per person per day, far less than the minimum standard of 1.5 litres.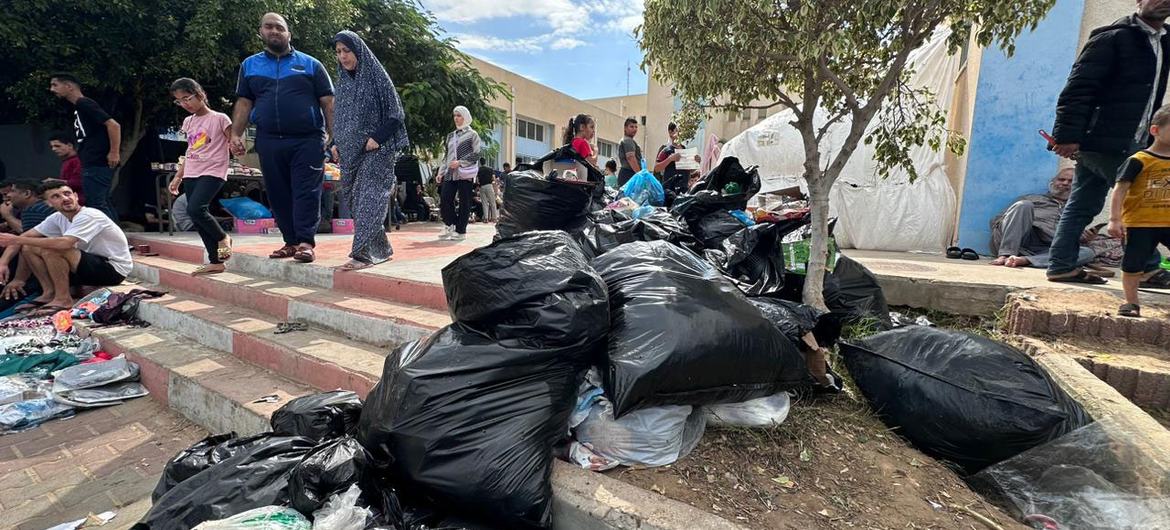 'Suffering knows no borders'
The UN's top humanitarian official highlighted the critical need for aid to be delivered safely to civilians throughout Gaza, and for funding to support these operations. He said UNRWA, the Red Crescent, and other agencies have staff and many volunteers who are still on the ground and ready to assist.
"What we don't have – and it's a killer, and what we desperately need – is immediate safe humanitarian access. And that is the burden of our discussions with key parties," he added.
Mr. Griffiths reported that prior to "these terrible weeks", 100 trucks a day delivered aid throughout Gaza and "we need to get back to that level of ambition".
Like Mr. Wennesland, he also expressed concern over the situation in the West Bank, noting that last week was the deadliest for Palestinians there since the UN began reporting fatalities in 2005. Violent incidents involving Israeli settlers have also increased, showing that "suffering knows no borders".
Following the briefings, Council members weighed in with their contrasting views on the crisis, and the effectiveness of the chamber itself.
Russia
Russian Ambassador Vassily Nebenzia said his delegation had initiated today's meeting, with China and the United Arab Emirates, due to the bombing of a Gazan hospital, which caused more than 800 deaths and injuries. In this regard, he called for an independent investigation that would bring perpetrators to justice.
"This is the price of inertia in the Council," he said. "We warned you about this on Monday."
As such, action must be taken promptly, he said. The Council could not prevent the tragedy in Gaza, he said, adding that "We have seen the terrible fruit of this."
All of this is happening with the inaction of the Council, paralyzed by the self-serving actions of some nations, he said, adding concerns about a possible spillover of the conflict.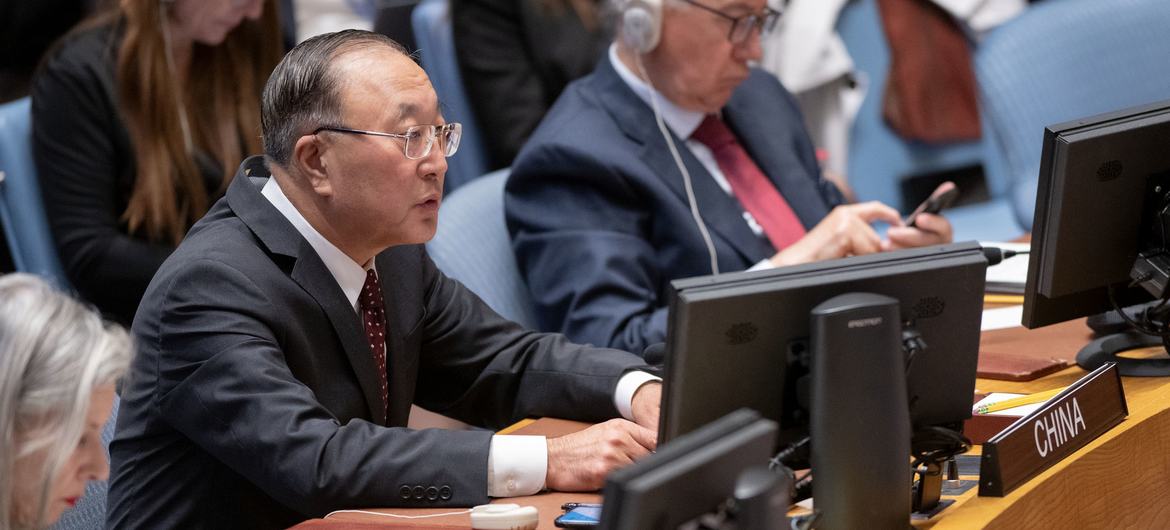 China
China's Ambassador Zhang Jun said the protection of civilians in armed conflict is reflected in international humanitarian law, urging Israel to fulfill its obligations.
Citing the current dire situation on the ground in Gaza, he said "there's no time to lose to protect civilians," calling on Israel to stop the bombing and open humanitarian corridors.
"An immediate and comprehensive ceasefire must be a priority," he said. "Without a ceasefire, any humanitarian aid would be a drop in the bucket" and possibly trigger a catastrophe that would encompass the region.
China supports all efforts to de-escalate the conflict and work for the cessation of hostilities as soon as possible, he said, calling for opening a safe aid corridor and the return of Israeli hostages.
"The Security Council has no excuse to remain silent," he said.
Opening the floor to the wider UN membership, the Council heard from, among others, the representatives of Israel and the State of Palestine.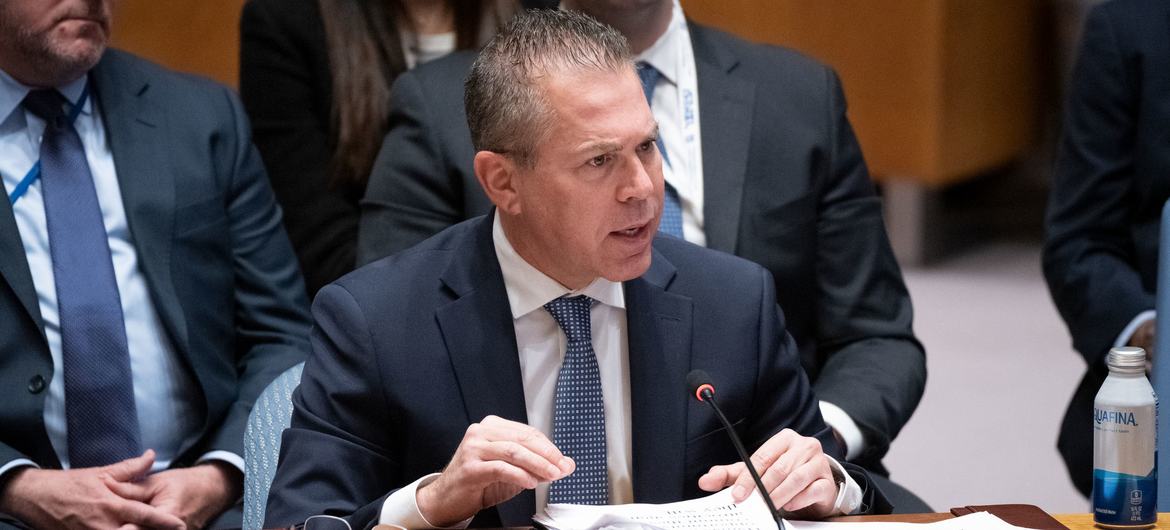 Israel
Referring to the 7 October attacks by Hamas militants, Israel's Ambassador Gilad Menashe Erdan said the "most barbaric and widespread terrorist attack" has been perpetrated, but "it appears this Council has forgotten."
Recalling the deliberate actions of "Hamas Nazis" against Israel, he said nothing can change their "genocidal ideology".
"There is only one solution to curing a cancer and it is the evisceration of the cancerous cells, as what was done with ISIS," he said.
"The Council has not condemned Hamas' terrorist attacks," he said. Instead, the Council "is fixed only on humanitarian corridors and aid."
"While noble causes, they are not a solution to prevent Hamas' next atrocities," he said, adding that "this Council is playing the exact role Hamas" wanted, including "weaponizing the UN".
"Calling for calm, restraint, and ceasefires is like putting a Band Aid on a bullet wound," he said.
"The al-Ahli Hospital was hit by a Palestinian rocket" and "the sole fault of Hamas", he said, highlighting Hamas' attack last week on a hospital in Ashkelon, Israel.
"Stop playing by Hamas' rules," he told Council members. "The time has come for this Council to hold Hamas fully and solely accountable for the war crimes committed. Israel's rescue mission can end very quickly if Hamas terrorists turn themselves in and release all of the hostages."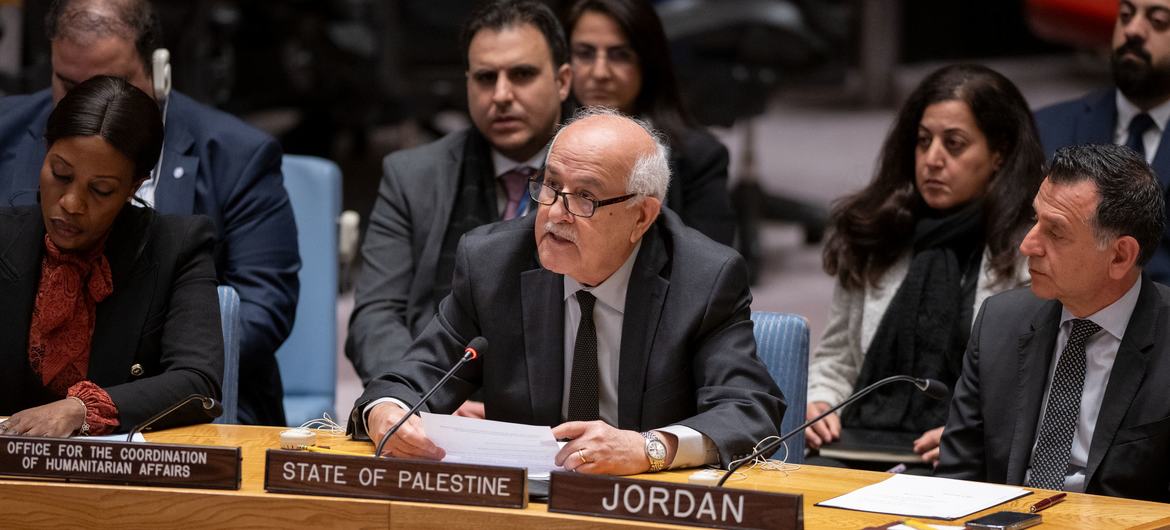 State of Palestine
Riyad Mansour, Permanent Observer of the State of Palestine to the UN, emphasised that there was no right provided under international law to commit massacres.
"Israel is committing massacres every single day. Over 10 days now, you have witnessed it, killing entire families, bombing shelters, schools, hospitals, residential buildings, and convoys," he told Ambassadors.
He said, it was "beyond belief" that some still speak of the right to self-defence of an occupying power, which itself made clear that it is seeking blind vengeance, forced transfer and annihilation of his people.
Mr. Mansour noted that while Security Council members call for protection of civilians, they have not been able to even call for a ceasefire.
"Those who cannot or will not call for an immediate ceasefire will lose any credibility, any authority, and share some of the responsibility for the devastation that is occurring now and what will occur next," he said.
He went on to note that had the Council called for a ceasefire by passing Monday's resolution, it would have saved hundreds of lives.
"We told this Council months ago, act to save lives – all lives. You did not hear us then, don't make the same mistake now," he urged, adding that an unprecedented humanitarian catastrophe is unfolding at the very moment.
"A political disaster is underway, and yet the Security Council is unable to say the only thing that matters – stop the bloodshed."